José Reyes set to return to Rockies following domestic abuse suspension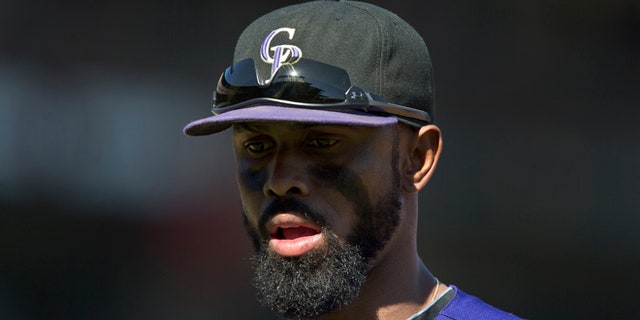 NEWYou can now listen to Fox News articles!
Colorado Rockies shortstop José Reyes will report to Triple-A Albuquerque for a rehab assignment on Wednesday, the day after he completes his suspension for violating Major League Baseball's new domestic violence policy.
Reyes did not participate in spring training and was suspended through May 31 after being charged with domestic violence for an altercation with his wife in Hawaii last October. Prosecutors dropped the charge ahead of a scheduled April 4 trial, saying Reyes' wife was not cooperating.
Reyes will make his way to Albuquerque after working out at extended spring training in Scottsdale, Arizona. There's no timetable for his return to the Rockies after the 59-day suspension.
Major League Rule 9 states a position player can spend a maximum period of 20 days on a minor league rehab assignment. But the agreement in which Reyes accepted the suspension specified Reyes' minor league assignment will be limited to a maximum 14 days.
Asked what kind of time Reyes might need to be ready to face major league pitchers, manager Walt Weiss said: "That's one of those things you play by ear and see how it goes."
In Reyes' absence, rookie shortstop Trevor Story has blossomed. He's hitting .265 with 14 homers and 36 RBIs, along with playing reliable defense.
Reyes, who turns 33 on June 11, is a career .290 hitter with 479 stolen bases in 13 seasons. His contract with the Rockies runs through the 2017 season and includes a club option for 2018. He won the 2011 NL batting title while with the New York Mets.
Over the last few weeks, he's been honing his swing in Arizona and working with some of the younger players. That doesn't surprise Weiss.
"Everything from that end has been very positive," Weiss said.
Reyes was acquired from Toronto on July 28 in a six-player deal that sent Troy Tulowitzki to the Blue Jays. Reyes hit .259 in 47 games with Colorado last season.
Last Oct. 31, Reyes was arrested at the Four Seasons Resort Maui at Wailea. According to a recording of a 911 call released by police, a hotel security guard reported the woman had injuries to her leg and scratches on her neck.
Reyes was released after posting $1,000 bail and was ordered to stay away from his wife for three days. He pleaded not guilty to abusing a family or household member.
Reyes joins Atlanta outfielder Hector Olivera and Yankees closer Aroldis Chapman as players penalized under baseball's new domestic violence policy.