Jose Aldo meeting with the UFC soon but has 'no desire to fight again'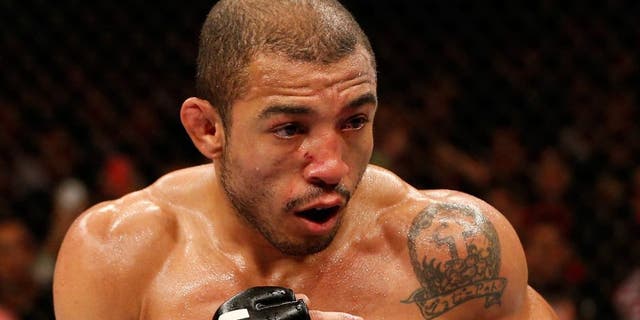 Interim featherweight champion Jose Aldo plans to meet with the UFC soon about his future, but he's not backing down from his desire to retire from the sport.
Aldo spoke to media in Brazil on Wednesday where he gave an update on his current situation with the UFC.
The veteran Brazilian competitor erupted weeks ago when Conor McGregor was given a lightweight title shot against Eddie Alvarez at UFC 205 without vacating his featherweight title. Aldo immediately asked for his release from the UFC and then doubled down on his request saying that he would just retire from fighting all together.
It seems his stance hasn't changed but Aldo will meet with the UFC in an attempt to get his release from the promotion.
"(Dana White) can offer me anything. I started to get unmotivated back then, when I lost the belt. I was the champion for so long I had the right to get an immediate rematch and they didn't give it to me, and I wanted to walk in a different direction but 'Dede' (Andre Pederneiras) made me fight again," Aldo said when speaking about his trainer and manager (translation by MMAFighting).
"I went there, fought and won, and again (the fight with McGregor) didn't come. I have no desire to fight again. I don't have any excitement to fight anymore. I have other projects in my life. I wanted to retire as champion and I'm the champion today. I want to follow another path."
Aldo admits that his coach wants him to continue fighting, but at this point the longest reigning featherweight champion in UFC history says he's made up his mind and just wants to be done with mixed martial arts for good.
"I'm very decided what I want. We're going to this meeting and see what happens. 'Dede' knows what he wants. It's not like I want to retire, I'm too young and still have a lot left, but I have no desire to fight," Aldo said. "And I have no interest in going to another organization. I won't leave the biggest league to fight in a small one. I'm a big team and I want to be at the biggest league. If I'm not in the UFC, I'm not fighting anywhere else.
"If they release me, that would be great, but if not, what can we do? I have other projects and that depends on this meeting we're having with them. If I want to retire, no contract can stop me. I can go there and say (I'm retired) and they can't force me to fight. A lawyer already looked at the contract, but I don't want to fight (the UFC in court). I don't want anything."
Obviously, Aldo doesn't need the UFC's permission to retire from the sport, but according to the Brazilian, the promotion controls a lot more than just his ability to fight.
Aldo claims he has other "projects" in the works outside of fighting and he would need to be released from the UFC to pursue them and that's what this meeting is really about.
"They have the rights for everything, even my breath," Aldo proclaimed. "How can't they? I can't even breathe outside the UFC."