Jordan's gift to Kobe for last All-Star Game: A wall of custom shoes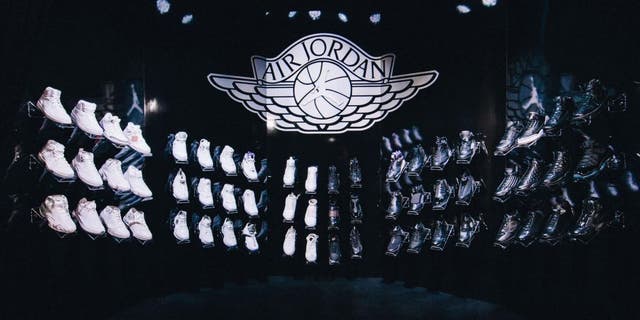 No one can rival Michael Jordan in the signature shoe game. But Kobe Bryant has always come pretty close to His Airness, whether on the court or in selling kicks. And on Friday night, the two NBA legends crossed paths once again, as Jordan Brand gifted Bryant an absolutely amazing custom collection, featuring a black version and white version of every single Jordan in the signature line, from the original 1 to the recently debuted 30:
The vast majority of the shoes were either all-white or all-black. But there were a few select Js that featured Los Angeles Lakers-esque trim:
The explanation, according to Nike's news site, is a simple and elegant one:
Now, we know what you're thinking -- this is an amazing set of shoes, and I want it immediately. On that front, we have some good and bad news. The white kicks are Kobe's; you're probably not going to get those. The second set, though, is up for auction (in size 14, the same as Bryant) to benefit charity.
But the bidding is only open for one day. So if you have the spare scratch lying around, here's your chance to get in on NBA shoe history. And if not, hopefully these amazing pictures will suffice.