Joey Gallo posts emotional tribute to officer slain in Dallas shooting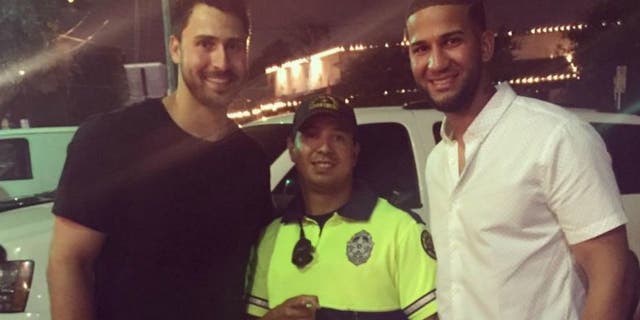 NEWYou can now listen to Fox News articles!
Texas Rangers third baseman Joey Gallo joined the chorus of Texas athletes expressing their support and despair over Thursday night's tragic mass-shooting in downtown Dallas.
Gallo's message hit on a more visceral levels than most, however, as he happened to know officer Patrick Zamarripa -- one of five officers slain in the extended crossfire between authorities and the shooter at a Black Lives Matter protest in the downtown area.
A 32-year-old veteran of the U.S. military with three tours in Iraq under his belt, Zamarripa approached Gallo and teammate Nomar Mazara for a picture earlier this year, according to Gallo.
In his post, Gallo mentions being struck at a "true hero" like Zamarripa had wanted to meet them, and that they'd shared a 15-minute conversation on sports. Gallo describes Zamarripa as a diehard Rangers fan, and asked followers to keep Zamarripa's family in their prayers.
In a Washington Post piece published by John Woodrow Cox on Friday, Zamarripa's father, Rick, speaks about his son's lifelong mission to serve being cut short by Thursday night's violence.
"He comes to the United State to protect people here," Rick said. "And they take his life."
Dan is on Twitter. Be strong, Dallas.