Jhonny Peralta and Miller Park: A match made in heaven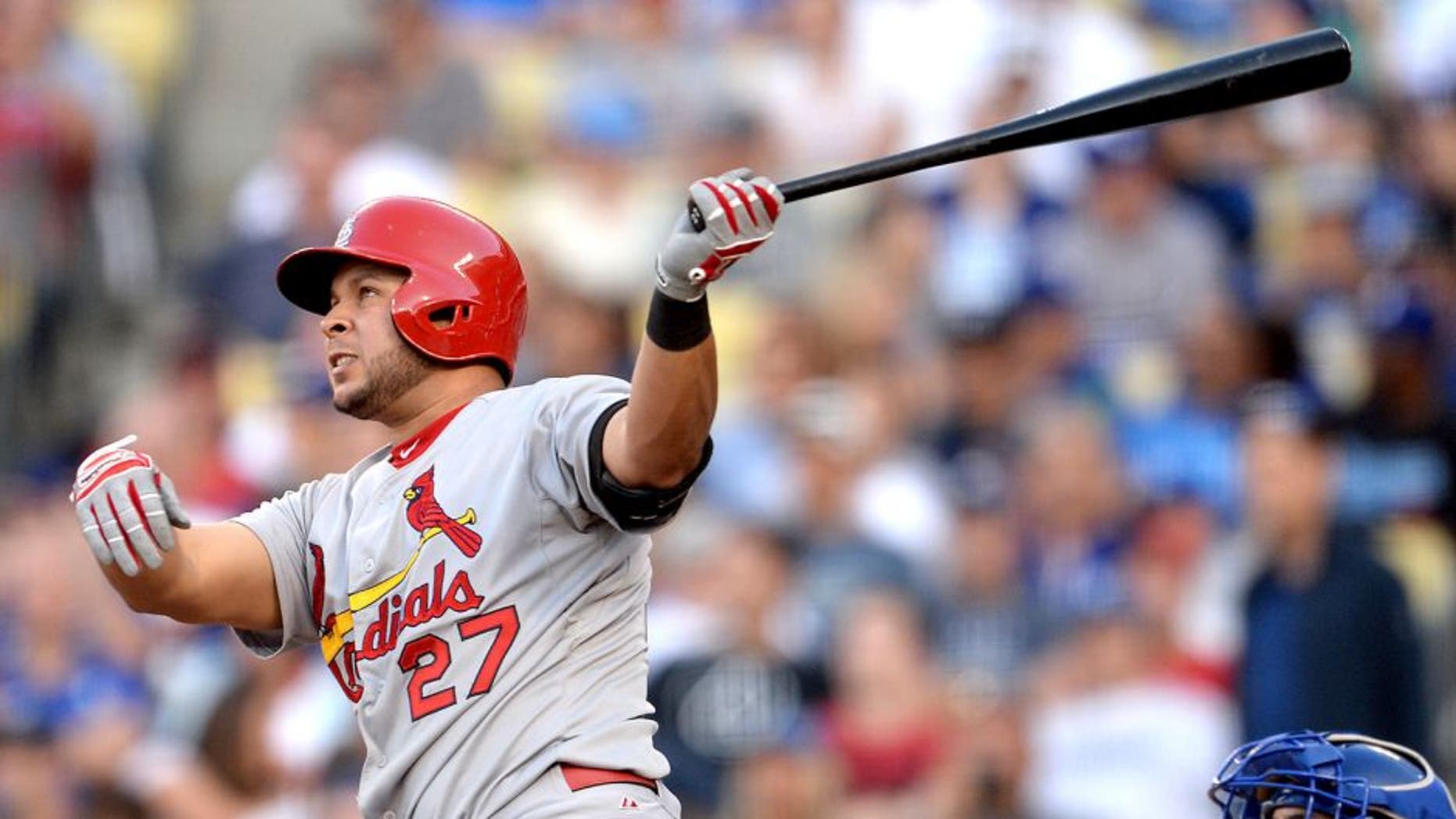 After spending 11 seasons in the AL, a benefit of Jhonny Peralta's signing with the St. Louis Cardinals before the 2014 season is his chance to face the Milwaukee Brewers more often.
As Peralta looks to continue his tear against the NL Central rivals, the MLB-best Cardinals try to extend their recent dominance at Miller Park in Friday night's series opener.
Peralta, who played with Detroit and Cleveland before joining St. Louis, has been one of the NL's top offensive shortstops, ranking second at his position with a team-high 16 home runs.
The All-Star has hammered the Brewers this season, going 15 for 33 with a home run in nine meetings. He's also batted .492 with seven home runs and 15 RBIs in 16 career games at Milwaukee.
Peralta went 7 for 11 with a homer to help St. Louis take two of three at Miller Park in April. The Cardinals are 6-3 in the season series and 17-6 at Milwaukee since the start of 2013.
After getting the day off in Thursday's 3-0 win at Cincinnati, Peralta is expected to be in the lineup as St. Louis (69-39) goes after its third straight win on this six-game road swing.
"It's August already," Thursday's winning pitcher Michael Wacha said. "This is the time we start pushing and play the way we have been all year."
Milwaukee's Tyler Cravy will get another opportunity in the rotation after getting recalled from Triple A Colorado Springs on Wednesday. He replaces struggling former Cardinal Kyle Lohse.
Cravy (0-2, 3.60 ERA) pitched well in his big-league debut against St. Louis on June 2, allowing one run and four hits over seven innings of a 1-0 road loss. He made another spot start July 7 against Atlanta, giving up four runs over six in a 4-3 home defeat.
"He had a very good start against St. Louis and a so-so start his next time out," manager Craig Counsell said. "To me, it warrants another chance. And he's performed at Triple A as well as anyone there. He's a player that you want to see more of at this level."
Randal Grichuk went 2 for 3 with a double off Cravy in June. The rookie had batted .375 with six home runs over an 18-game stretch before going 0 for 4 with three strikeouts Thursday.
Kolten Wong delivered the big blow against the Reds with a two-run single in the fourth inning. The Cardinals, however, had just five hits and have totaled 14 runs in their last five games.
They've given Lance Lynn (8-6, 2.89) three or fewer runs of support in 15 of 20 starts. The right-hander had gone 5-1 with a 1.94 ERA over his previous nine outings before allowing four runs over five innings of Saturday's 6-2 home loss to Colorado.
Lynn, 6-2 with a 2.60 ERA in 13 career starts against Milwaukee, is facing the Brewers (47-63) for the fourth time this season. He won both outings at Busch Stadium but surrendered a season-high six runs and 10 hits over five innings of a 6-3 loss at Miller Park on April 26.
Adam Lind homered off Lynn in that game, but is just 2 for 11 in the matchup.
Lind had three hits and three RBIs and Khris Davis hit a pair of three-run home runs as Milwaukee took the last three of a four-game series with San Diego with Thursday's 10-1 home victory.
Lind has gone 11 for 23 in his last six games, while Davis is 6 for 12 with eight RBIs in the past three.