Jets HC Todd Bowles not impressed with QBs despite zero turnovers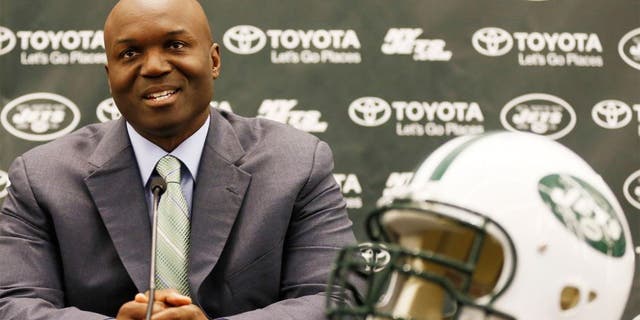 New York Jets first-year head coach Todd Bowles is stepping into a situation without an elite, or even great quarterback. Geno Smith is the proclaimed starter as of now, but Ryan Fitzpatrick is ready at the drop of a hat to take over the job. Neither player has the best track record in the league, with both struggling throughout their respective careers.
On the bright side, the quarterback play in training camp thus far has been surprisingly solid. Both Fitzpatrick and Smith have yet to turn the ball over in team drills, but Bowles doesn't think that's anything to obsess over. In fact, he's still relatively unimpressed with his signal callers so far.
"All the quarterbacks have done a good job," Bowles said, via the New York Daily News. "Like you said they haven't turned the ball over, but after two days (of pads) I don't know how impressed you're going to be. It's nice, but you're not going to sit there and fly the flag."
In his tenure with the Jets up to this point, Bowles has been extremely unemotional and even-keeled. He's had to deal with the Sheldon Richardson situation already, and has an unhappy Muhammad Wilkerson who wants a new contract, as well.
His time with the Jets is still in its infancy, obviously, but Bowles seems to have a good hold of how to handle the media and buzz surrounding his team in the Big Apple.
(h/t NY Daily News)