Jerry Jones will leave the Tony Romo decision for another day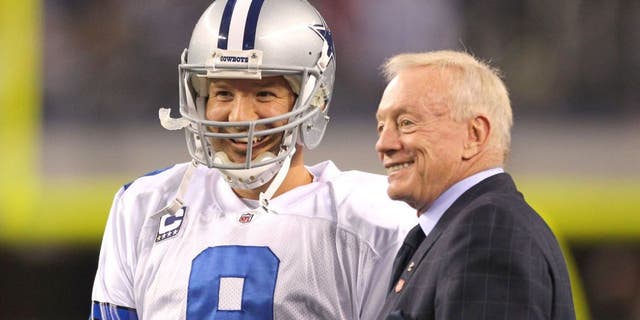 Now that the Dallas Cowboys have been eliminated from the playoffs, the team's first order of business likely will be how to gracefully complete the transition from Tony Romo to Dak Prescott at quarterback.
Prescott, of course, led the team to a 13-3 record in his rookie year while the four-time Pro Bowl selection Romo recovered from a preseason back injury. When Romo returned to hold a clipboard in the season's final weeks it was with the knowledge that it doesn't make sense for both players to be in Dallas again next season.
So it didn't take long after the Cowboys' stinging 34-31 loss to the Packers on Sunday for Cowboys owner Jerry Jones to be asked how he'd handle Romo's future. Surprisingly -- after fueling Romo-vs.-Prescott debate late in the season -- the usually outspoken Jones decided to leave this topic for another day. Via the Fort Worth Star-Telegram:
"We just won't address any of that until later on. And I'm not going to quantify it in terms of days or weeks or whatever, but that will be in the future.
"That's not for here. We'll be talking and addressing those kinds of things as we move ahead here over the next weeks and months."
Romo's 2017 cap number is $24.7 million, and even though he hasn't said he doesn't want to return as a backup, there figure to be plenty of teams that will come calling on the Cowboys to help him make that choice. Jones doesn't have to say what's coming next because everyone should know the answer: Tony Romo has played his last game in a Cowboys uniform.