Jerry Jones calls Dak Prescott-Tony Romo situation a 'miracle problem to have'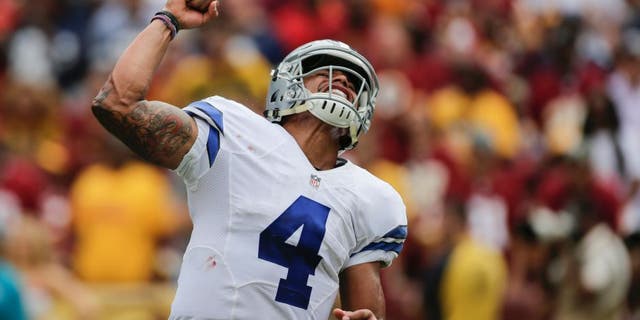 It seemed like ages ago that the Dallas Cowboys had a legitimate quarterback problem, even though it was just last season. That's because Dak Prescott has alleviated concerns of a post-Tony Romo era with stellar play and four consecutive wins.
Not only has Prescott's near-spotless performance created a debate of who should start the remainder of the season, but it's allowed the Cowboys to be significantly more patient with Romo's rehabilitation, according to Dallas owner Jerry Jones.
"I think what Dak's success had done is given us the luxury to absolutely maximize any thought we might have of his rehab time" Jerry Jones said on 105.3 The Fan Tuesday.
"We've got a great situation here -- I just have to pinch myself to think about it." said Jones. "We've got Dak, who is playing at a level that is very capable of winning these games. We've got the optimism every time he walks out there. It's inspiring, it's inspiring this team."
This is a problem the Cowboys are fortunate to have -- one they would have been lucky to face last season when they couldn't find a viable replacement for Romo. Because of that, Jones is noticeably excited about the future of the team.
"It's a wonderful problem to have. It's a miracle problem to have in my mind," Jones said. "I'm so proud because every time Dak takes a snap. I see our future getting stronger. I see the encouragement that his future brings to this team. I see what he's doing right now. His presence. …Then, I look over there, and in my mind, [we have] someone that is very capable of winning it all."
With Prescott playing so well, the Cowboys can afford to rest Romo until he's fully and unequivocally healthy. Whether that's in Week 8 or in Week 10, or in 2017, the Cowboys have the ability to take it slow with his rehab.
He's not the only one recovering from an injury, though. Dez Bryant is also doing his best to get back on the field soon after suffering a knee injury a few weeks ago. He's another player Dallas won't take any chances with, as Jones said.
This was his response when asked if Bryant will play this week:
"We'll have to see how he works this week. We won't take any chances there," Jones said.
The Cowboys could easily be without Romo and Bryant until after their Week 7 bye, but in the worst-case scenario, they'll be 4-2. Best-case? They're 5-1 and sitting in first place and a showdown with the Eagles looming. Regardless, they're in a good spot.