Jason Terry goes scoreless after guaranteeing Game 5 win over Warriors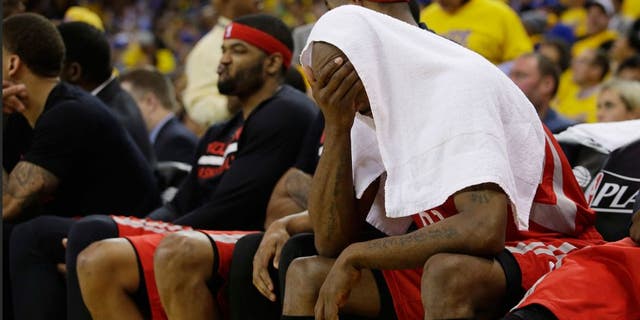 What's a Jason Terry guarantee worth these days?
Zero.
As in, Terry scored zero points on 0-for-7 shooting in 22 minutes of the Houston Rockets' series-ending 114-81 loss, after he guaranteed a Game 5 victory over the Golden State Warriors.
"We did not want to go back to Houston -- €" it's a long flight," the Warriors' Klay Thompson said, nicely trolling Terry, who told the Houston Chronicle earlier this week, "That's going to be a long flight for them to come back to Houston."
Terry also said that if the Rockets won the title this season, he would add another tattoo of the championship trophy. He got his first before the 2010-11 season while playing for the Dallas Mavericks, who went on to upset the Miami Heat to win the franchise's first title.
Terry and the Rockets got tattooed, all right. Just not with the trophy.