Hurricane Katrina experience made Vikings OL Faciane 'stronger'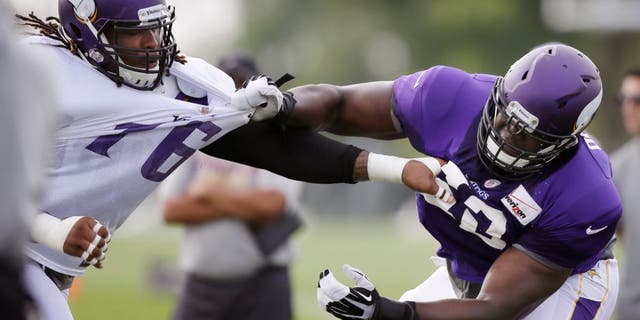 NEWYou can now listen to Fox News articles!
Minnesota Vikings lineman Isame Faciane was a 13-year-old living with his grandparents in New Orleans when Hurricane Katrina hit the city ten years ago. The devastation left a lasting impact on Faciane; they're symbolized on his left arm in the form of a tattoo, according to Eric Edholm of Yahoo! Sports.
"That was just a reminder to never forget where I came from and what I went through," Faciane said, per Yahoo! Sports.
The flooding destroyed "everything" in Faciane's grandparents' house, according to Yahoo! Sports. The family had little money, and Faciane's grandfather, Ellis Beard, was diagnosed with a brain tumor shortly after the storm. They were happy just to have a FEMA trailer to live in.
The extremely difficult situation helped shape Faciane at a young age.
"It made my spirit stronger. It made my heart stronger. I didn't want the responsibility at first at such a young age, but I had no choice," Faciane said, via Yahoo! Sports. "I was forced into it, and it made me grow up a lot sooner than I thought I had to. It matured me real quick.
"That tattoo represents everything we went through, everything I went through, and it lets me know there isn't anything I can't withstand."
Faciane's latest challenge is a position switch from defensive line to offensive line. He was a D-tackle on Minnesota's practice squad last year, but now the Vikings are trying him out at guard.
(h/t Yahoo! Sports)