How Frank Gifford became icon on and off the field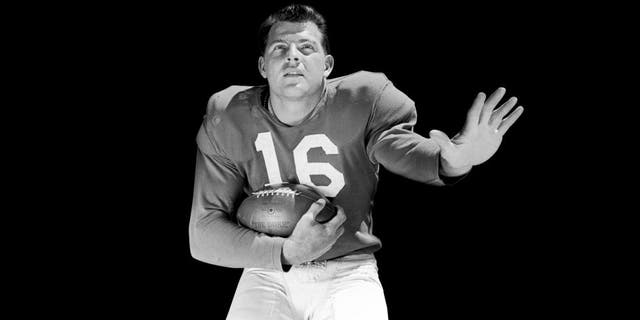 Few NFL players will ever be remembered in as many different ways as Frank Gifford.
One generation's impressions were shaped largely by the 27 seasons Gifford spent as a Monday Night Football analyst.
An earlier generation can recall Gifford as a future Pro Football Hall of Fame inductee with the New York Giants who also was on the wrong side of one of the most devastating tackles in NFL history. And then there is the group of folks that know little of his football exploits but are well aware of who he is because of wife Kathie Lee Gifford's popularity as a television host.
However he is celebrated, Gifford was truly unforgettable.
A statement released by his family through NBC News and confirmed to FOX Sports by the Hall of Fame stated that Gifford died in his sleep Sunday morning of natural causes at his Connecticut home. He was 84 years old.
Gifford began building his football legacy in the early 1950s as an All-America selection at Southern Cal. He became a 1952 first-round pick by the New York Giants who excelled playing on both offense (running back) and defense (defensive back), which resulted in him staying on the field for an average of 50 minutes a game. He received NFL Most Valuable Player honors in 1956 while pacing the Giants to a league championship.
"Frank Gifford was the ultimate Giant," Giants president and co-owner John Mara said in a released statement. "He was the face of our franchise for so many years."
Coincidentally, it was another iconic two-way player who later knocked Gifford out of the league for 18 months.
During a 1960 game against Philadelphia, Gifford caught a pass and turned up-field as Eagles linebacker Chuck Bednarik closed in from the side. Bednarik – a fellow future Hall of Famer whose nickname was "Concrete Charlie" – crushed Gifford with the pro wrestling equivalent of a flying clothesline. A flattened Gifford suffered head damage that caused him to retire prior to the 1961 season.
In an NFL documentary, former Giants linebacker Sam Huff said Gifford was hit so hard that "I thought Bednarik killed him."
Not only wasn't he dead, Gifford returned to the NFL in 1962 at a new position. Playing flanker (i.e. wide receiver) took advantage of Gifford's pass-catching skills and athleticism while also exposing him to fewer devastating blows.
Gifford's jocular good looks, popularity and gift of gab made him a natural for the announcing booth following his retirement. Gifford broadcasted a slew of sporting events but was most remembered for his work on Monday Night Football between 1971 and 1997. The three-man team of the straight-laced Gifford, the bombastic Howard Cosell and joke-cracking Don Meredith enjoyed a strong seven-year run (1977-1983) as the NFL continued to grow in popularity. Gifford spent even more time (12 seasons) working alongside Al Michaels and Dan Dierdorf.
Gifford's announcing career didn't end well. A well-publicized 1997 scandal in which Gifford was linked with a flight attendant in an extra-marital affair led to his Monday Night Football role changing from game announcer to pregame host. Gifford retired after the 1998 season concluded.
The Giffords remained married, with Kathie Lee maintaining a high public profile. She currently appears on the NBC morning show Today.
In his later years, Frank Gifford would still make public appearances and occasionally offer his voice for special NFL programming.
"I always loved seeing Frank on our sideline before our games," said Giants co-owner and chairman Steve Tisch. "He had the handshake of a 25-year old and looked you right in the eye with his big blue eyes. He was such a strong person in every way. He will be missed and always remembered as a Giants' Giant."
As well as a bunch of other superlatives depending on the age of the mourner.