Houston Astros at Tampa Bay Rays game preview (4/23/17)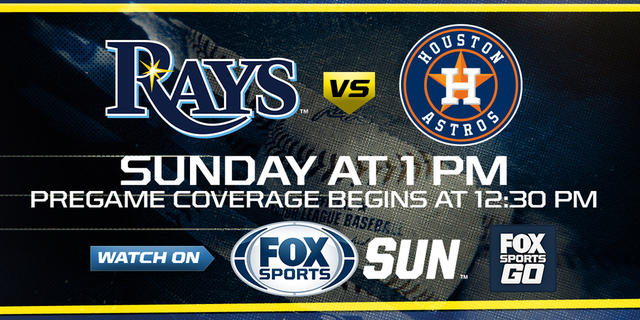 TV: FOX Sports Sun
Time: Pregame coverage begins at 12:30 p.m.
CAN'T GET TO A TV? WATCH IT LIVE ON FOX SPORTS GO
ST. PETERSBURG, Fla. -- The Tampa Bay Rays have something of a patchwork lineup with 10 players on the disabled list, but even shorthanded, they have found ways to come out of the gates with a 9-3 record at home.
"We're scrambling on the bench tonight, thinking about the game at hand and also playing the what-if for (Sunday's) game and the game to follow," Rays manager Kevin Cash said.
The Rays, who host the Houston Astros in the final game of the series on Sunday, have no left-handers in their bullpen and may have lost another reliever as Tommy Hunter left Saturday's game with a calf injury. Kevin Kiermaier left his second straight game with illness, trying to push through but striking out three times on nine pitches.
There are signs of progress, however. Rookie reliever Austin Pruitt won for the second time in four days with an extended scoreless outing, and newcomer Shane Peterson, who looked out of place in left field two days earlier, made two spectacular catches as part of a much improved defensive effort.
Houston, on the other hand, hopes to get out with a series win on Sunday after letting a sixth-inning lead slip away Saturday and making it easier for the Rays.
"Defensively, we didn't play great," Astros manager A.J. Hinch said. "It wasn't our best night. You're going to have games like this sometimes … We didn't really piece together at-bat after at-bat when we did get baserunners."
For Sunday's finale, Rays starter Matt Andriese (1-0, 3.38 ERA) is coming off his first win of the season on Tuesday, going six innings and holding Detroit to one run on four hits.
Against an Astros lineup that has 22 home runs this season, Andriese must be careful about the home-run ball. Since the All-Star break last season, he has allowed 18 in 78 2/3 innings, and his home run rate of 2.06 per nine innings in that span is the third-highest in the American League.
Andriese has a 1-1 record and 5.13 ERA in his career against the Astros, taking the loss on a 13th-inning walk-off single in 2015 and winning last season despite allowing 12 baserunners, including four walks.
Houston starter Joe Musgrove (1-1, 5.87 ERA) lost Tuesday to the Angels, giving up five runs on eight hits in five innings, with much of the damage coming on a three-run Albert Pujols home run. This will be Musgrove's first appearance against the Rays.
Both sides could be playing without key personnel. Kiermaier is still battling illness, and Astros outfielder George Springer is unlikely to play after leaving Saturday's game with discomfort in his hamstring.
The Rays go on the road for eight games in nine days after Sunday's finale and have been a much different team on the road -- 1-6 away vs. 9-3 at home. The Astros stay on the road with three more at Cleveland before returning home for their next seven games against Oakland and Texas.
"Really impressed with the way the guys stayed at it and did a tremendous job," Cash said of another comeback home victory Saturday, which clinched a second straight winning homestand.