Holly Holm reveals the one thing more important than winning the title at UFC 208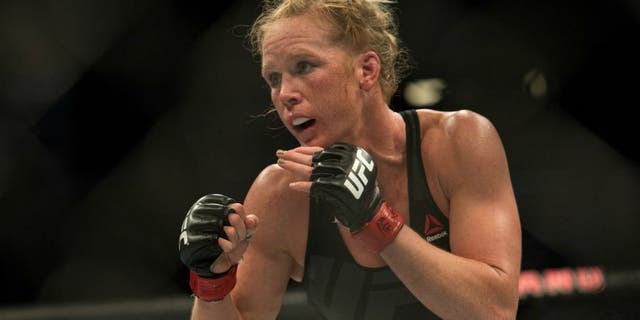 BROOKLYN -- Holly Holm has accomplished a lot during her combat sports career, and she has the chance to make history again at UFC 208 when she fights to become the promotion's first ever women's featherweight champion.
Taking home the title at 145-pounds would also make Holm the first women's fighter to hold championships in two divisions after previously winning the bantamweight belt from Ronda Rousey in 2015.
That's in addition to Holm's long, storied career as a boxer where she was rated as one of the top women's fighters of all time before retiring to turn her focus towards mixed martial arts. In other words, winning a second UFC title could put Holm in extremely rarified air as arguably the most accomplished fighter in the history of women's combat sports.
All those accolades could be Holm's with a win over Germaine de Randamie at UFC 208, and that's still not what is motivating her the most ahead of Saturday night.
"To not lose. That's the biggest motivating factor for me," Hold told FOX Sports ahead of her bout Saturday night. "Whether it's for a belt or not, I want to win this fight regardless. The biggest motivating factor for me is not that's it's for the belt, not that it's making history. Those are things that help motivate me but it's not the biggest thing.
"I don't want to lose. I want to win. That's it."
Holm enters the title fight in a very rare situation for a competitor about to battle for an inaugural championship because she's coming into Saturday night on a two-fight losing streak.
Considering Holm has more than 50 professional fights between MMA, boxing and kickboxing with over 15 years experience and has never lost two in a row before now, it's understandable why getting a win against de Randamie is so paramount.
In her most recent loss, Holm was dealt a unanimous decision defeat by top-ranked contender Valentina Shevchenko that came one fight after she lost her bantamweight title to Miesha Tate. It was quite a backward slide for Holm, who entered 2016 off the biggest win of her career over Ronda Rousey only to face back-to-back losses to put her right back at square one in many ways.
That's why Holm has changed her mindset going into UFC 208 because something was clearly off the last time she stepped into the Octagon to face Shevchenko.
"I want to stay focused 100-percent from the first bell to the last bell," Holm said. "I think my focus was off a little bit in my last fight. You can train so hard for a fight and be focused mentally and physically but if you're not focused in that moment and in that time, that time goes by pretty quick and before you know it the fight is over and you can't do anything about it. It's a done deal.
"So one of the biggest things I have to do is stay focused and I've always said that's one of the hardest things to do it fighting is staying focused from beginning to end without letting your opponent get in your head, without letting your own thoughts get the best of you. I think that's the biggest thing. I had good training camps for my last two fights. I had good training camps, I was healthy, I had a good game plan, but I just didn't really perform to the best of my ability and I don't want that to happen again."
As successful as Holm was during her boxing career, the first real taste of mainstream fame came after her second round knockout over Rousey in 2015. In the days after that win, Holm was whisked around the world on a massive media tour, which included hobnobbing with celebrities like Jamie Foxx and Oscar De La Hoya.
It would be easy to say that the taste of the spotlight distracted Holm from what was really important to her career, but she refuses to make that excuse or to take away the victories from fighters like Shevchenko or Miesha Tate, who beat her fair and square on the night of the fight.
"Obviously that stuff made me more busy and that stuff put me more in the public eye, but that's not why I lost those fights," Holm explained. "It made my year busy but there's no way I would ever let that be an excuse. I trained hard, I had the time to train hard and it was my fault for not being able to compartmentalize whatever is going on in my mind at that time. I had big fights in boxing and there were big things going on in my life and when the fight came I thought to myself 'Holly, you're going to be dealing with this stuff regardless after the fight, do you want to deal with a loss, too?' That makes it even worse.
"I just didn't focus in the moment, in the fights. It wasn't the distractions or the media or being thrust into the limelight or anything like that. I'm never going to make an excuse for losing a fight. It was my own fault for not performing."
In many ways, Holm has the chance to get a fresh start if she can beat De Randamie and claim the first ever UFC women's featherweight title. It won't erase those past defeats, but it will put Holm back on the right track so she can start to rebuild after suffering back-to-back defeats.
As much as Holm could go down in history as one of the most accomplished combat sports athletes with a win, she knows a loss could land her in a much more dubious position.
Holm welcomes that pressure, however, and promises that her days on top are far from finished.
"I don't want to go where I fight for the belt one time, lose and I never get it back. That's a sore spot for me," Holm said.
"There's a reason why a lot of people in the world wouldn't be able to do this job. Because they wouldn't be able to handle the pressure. I can handle it. That's why I'm here."