Helm, Abdelkader add youth, grit to Wings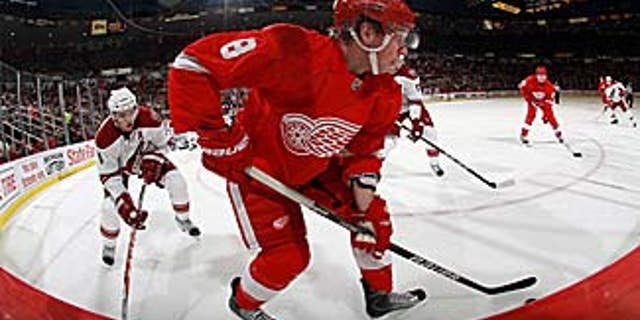 NEWYou can now listen to Fox News articles!
DETROIT -- Most people look at the Detroit Red Wings and see how many guys they have over the age of 30 that are key components to one of the League's best teams.
Somewhat hidden away is a pair of 24-year old workhorses who were both selected in the 2005 Entry Draft and now provide a lot of spark to the Red Wings.
Fourth-line center Darren Helm and forward Justin Abdelkader, who's currently centering Detroit's second line, definitely made their presence felt all season -- and continued to do so in Game 1 of the Red Wings' Western Conference quarterfinal against the Phoenix Coyotes.
Helm played a key role in shutting down six Phoenix power plays during the 4-2 Detroit win, while Abdelkader won 56 percent of the 18 faceoffs he took. They both threw their bodies around trying to make a statement against the checking-oriented Coyotes -- whose hard-hitting captain, Shane Doan, took notice.
"I look at the guys like Helm and Abdelkader and (Drew Miller) and the guys who want to prove that they can be physical and you know what -- that's the way you want people to play," Doan said, following Phoenix's practice at Joe Louis Arena on Friday. "If they were on my team, I'd be loving to see that. That's exactly what you want out of your guys who are going to be in that situation. They responded accordingly."
They might've ratcheted up their intensity for the playoffs, but Abdelkader and Helm have approached the entire season that way.
Helm played in all 82 games and finished with 12 goals, 32 points and a plus-9 while centering the Wings' checking line. Often playing the wing alongside him was Abdelkader, who also bounced around from the fourth line all the way to the top line -- playing 74 games and chipping in 7 goals with 19 points and a plus-15 rating.
In the faceoff circle, Helm won 52.6 percent of draws while Abdelkader won 52.8 percent. Together, they've become quite the young duo of energetic role players that Red Wings coach Mike Babcock loves to suit up.
"They think they're going to work hard enough, long enough that they're gonna find a way to be better than you are -- and they're going to be long-time Red Wings and pros because of it," Babcock said. "They make the people around them better because of their off-ice conditioning, because of their attitude, because of the energy they bring each and every day."
Abdelkader, a 6-foot-1, 212-pound forward, is currently centered between Danny Cleary and Todd Bertuzzi. It gives Detroit a big body who plays tough down the middle of the ice and is a role relished by Abdelkader -- a former second-round pick (No. 42).
"It's been a great opportunity," he told NHL.com. "(Cleary and Bertuzzi) are two really good players and I think we can be a strong line. We're big and can all skate and hang onto pucks. That's important come playoff time. We can wear on their D and be physical. That's key for us."
Helm, who was taken in the fifth round (No. 132), also has a physical presence -- but it's his speed that jumps out. He's become a key part of Detroit's penalty kill and is always a threat for a breakaway if opposing defensemen aren't careful near the blue line.
"He's fast and uses his speed," Miller said. "With the new rules, defensemen can't touch you. You chip it by them and he can just fly. It's something that's definitely fun to watch and he gets some really good opportunities out of it."
In his third NHL season, Helm is more comfortable with the role the Red Wings need him to play -- but it wasn't an easy transition. That's where his immense work ethic paid off.
"In junior, I always put up more points and was counted on to score more -- but coming here, it was an adjustment to get into the defensive role a little more," Helm told NHL.com. "It's a tough League. You can't just jump from junior to the AHL or NHL and not expect there to be a lot of differences. That took a little getting used to, but my speed definitely helped make up for the mistakes I made early on."
It also hasn't hurt to have a locker next to veteran forward Kris Draper, a Red Wings' stalwart and original member of Detroit's "Grind Line" that was credited for bringing intensity and energy to four Stanley Cup runs. Draper isn't ready to bestow "grind line member" status to Helm just yet -- despite being a current linemate -- but he did pick Helm when asked what current Red Wing plays most like him.
"He's a guy that is going to continue to get better," Draper said. "Tremendous speed and he's just getting more confident every game. He's killing big penalties, taking big faceoffs and continues to create chances with his speed. Stuff like that is contagious. When you see what he does, you just kind of want to get over the boards and do the same thing."
Another "Grind Line" member, Red Wings scout Kirk Maltby, agrees. While still playing with the Red Wings last season, Maltby also got a chance to assess both Helm and Abdelkader -- whom he picked as the current Red Wing that most plays like he did.
"Last year, when I was still playing with those guys, we said that Helmer was Drapes and Abby was myself," said Maltby, who retired at the beginning of this season. "Me and Drapes said they were more like 'Dumb and Dumber' the movie … you know like, Lloyd and Harry. But they're great kids."
They're also fast becoming hard to handle for opposing defensemen.
"Those two guys in particular, they can start wearing defensemen down on the forecheck," Maltby told NHL.com. "They like to finish checks. They get in there quick and not only create turnovers, but by Game 4 or Game 5 of a series, the d-men are looking over their shoulder and maybe are getting physically fatigued -- which can lead to mental mistakes. It's guys like them that do those kinds of things throughout the course of a series to help you win."