Hawks trade Dwight Howard to Hornets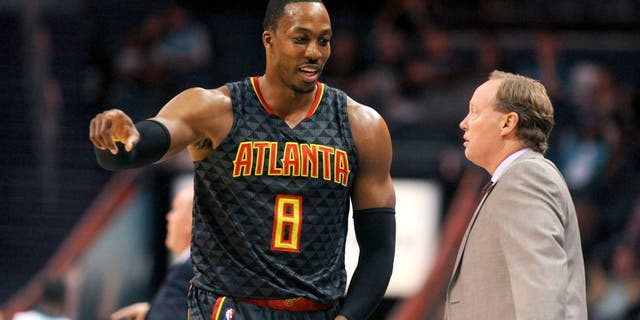 NEWYou can now listen to Fox News articles!
New general manager and president of basketball operations Travis Schlenk hardly moved into his new Atlanta office before purging the Hawks' payroll of the $47 million still owed to underperforming veteran center Dwight Howard.
Schlenk and the Hawks traded Howard, who signed a three-year, $70.5 million deal to return to his hometown last summer, and the No. 31 overall pick in the 2017 NBA Draft to the Charlotte Hornets in exchange for guard Marco Belinelli, big man Miles Plumlee and the No. 41 overall pick, according to multiple reports.
The move reunites the future Hall of Famerwith Hornetscoach Steve Clifford, a former assistant with the Orlando Magic and Los Angeles Lakers during Howard's respective tenures. This will be Howard's fifth team in seven seasons.
Howard averaged 13.5 points and 12.7 rebounds for the Hawks last season, though he was an awkward fit for Mike Budenholzer's pace-and-space offense even being benched in late-game playoff situations.
The fact that the Hawks were willing to not only move back 10 spots in the draft (they also own the No. 19 pick) and take on a rotational big in Plumlee, who is owed more than $37 million over the next three seasons, and an expiring contract in Belinelli, a decent outside shooter, points toAtlanta's determination to quickly move on from Howard.
Two days prior to the draft, Howard serves as the first blockbuster move of the Schlenk Era. Atlanta's ownership group hired the former Golden State Warriors executive in a pivotal offseason that includes major free agency decisions on Paul Millsap and Tim Hardaway Jr.