Hamlin points to team role in confidence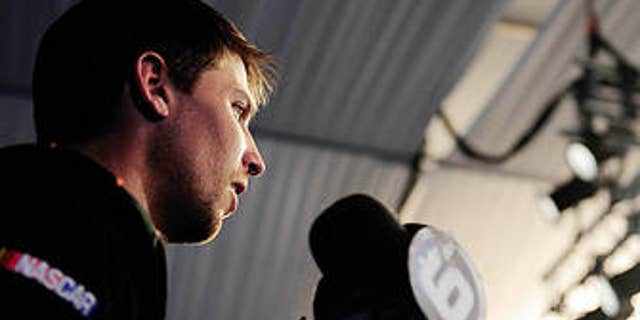 NEWYou can now listen to Fox News articles!
NASCAR's resident NBA fanatic Denny Hamlin isn't impressed by the Linsanity.
As a race car driver, Hamlin knows that a team's success can't be predicated on one sole individual.
"It's a team buying in and believing in something," Hamlin says. "It's not just Jeremy Lin. It's that whole team is now performing better because they have something to believe in. They know they can win now. Now they have the confidence.
"It's not just his heroics. They won by the biggest margin last night and he had the least amount of points. Now that they're having success they're all buying into it. Now whether that continues when Carmelo (Anthony) comes back, I don't know. But right now it's amazing to see how well a team performs together when it buys in. That's something that can be learned over here on the Cup side."
Hamlin knows the disappointment that accompanies a team that's lost its direction. After winning a series high eight races in 2010 but losing the Sprint Cup title by 39 points in the season finale at Homestead-Miami Speedway, the team never regained its momentum last year. When the season ended, Joe Gibbs Racing replaced Hamlin crew chief Mike Ford with Darian Grubb. It was clear to all that it was time for a change.
"I felt we were weak in some areas and sure, it didn't give me the confidence," Hamlin said. "When I got in my race car I was like, 'Man, I hope we can just finish 10th today because we sucked so bad in practice.' Where in 2010, I would screw around and be fastest in practice.
"I think I took things for granted in that sense of not realizing that my cars were really, really good. I wasn't disciplined in 2010, but I had a lot of fun and won a lot of races doing it that way. The more intense I was in 2011, it almost was a bad thing because my expectations were so high on myself after 2010 . . . winning all those races that in 2011 when you're struggling to run 15th, you lose all confidence. When I got in the race car and knew I wasn't going to finish any better than 10th that particular day, there's no way you can be successful with that kind of outlook."
Hamlin still considers Ford "one of the top five crew chiefs" in the sport. He's spoken with Ford and gone to dinner since the breakup. Hamlin says neither the driver nor the crew chief wanted to feel awkward running into each other in the garage in the future. And Hamlin wouldn't rule out a reunion with Ford in the future.
"He's a friend to me first and a co-worker second," Hamlin said.