Growing FIFA Bribery Scandal Rocks CONCACAF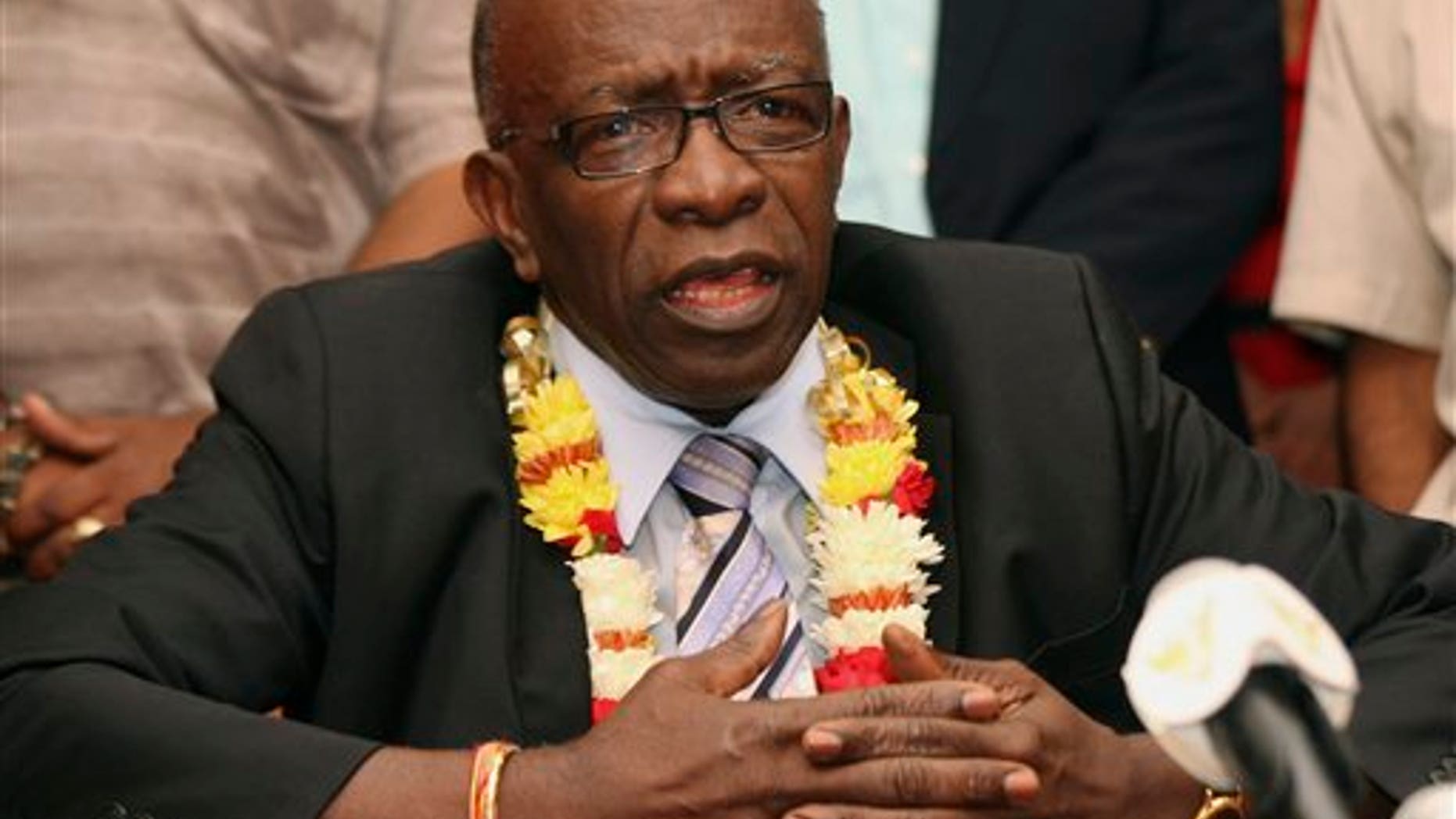 The bribery scandal that has rocked the soccer world refuses to go away. FIFA announced that it is now investigating 16 Caribbean soccer leaders, including the president and vice president of the Dominican Football Federation.
The officials are suspected of taking $40,000 in cash to back Mohamed bin Hammam, the former head of the Asian Football Confederation who was running to replace Sepp Blatter as president of FIFA. Some officials may have been offered the bribe and failed to report it to FIFA investigators led by former FBI director Louis Freeh.
The governing body added that the 16 will be invited for new interviews by Freeh's team as part of an investigation led by Robert Torres, a judge from Guam.
"It is important to note that the investigations are still ongoing, and that it is therefore possible that further proceedings could be opened in the future," FIFA said in a statement.
Included among the 16 are federation presidents Franka Pickering of the British Virgin Islands, Osiris Guzmán of the Dominican Republic and Anthony Johnson from St. Kitts and Nevis. General secretaries Noel Adonis of Guyana, Trinidad and Tobago's Richard Groden, and David Hinds from Barbados are also on FIFA's target list.
The list also includes Mark Bob Forde from Barbados, who was a FIFA-approved international referee for almost 20 years.
Haiti federation president Yves Jean-Bart is also under investigation. He made a speech at the FIFA Congress on June 1 criticizing English officials who wanted Blatter's election delayed while corruption allegations were fully investigated.
"Whatever is necessary," Guzmán told The Associated Press by phone in Santo Domingo. "They have not contacted me yet."
Ledesema denied being offered bribes to vote for bin Hammam.
"I never received any offers. I think this is all a political case," he told the AP.
FIFA's ethics panel also suspended two Caribbean Football Union staffers for one year for their part in distributing the cash-stuffed brown envelopes in a Trinidad hotel.
FIFA invited officials from CFU member countries for "truthful and complete reporting" of what happened during the Qatari candidate's May 10 campaign visit to Trinidad.
FIFA's legal process typically means accused officials are called before the ethics panel, which decides if the evidence demands more investigation and a full hearing weeks later. Those under suspicion face being provisionally suspended from any soccer duty, including contacting other officials and attending national team games.
The scandal threatens to remove some of the Caribbean's most influential soccer leaders during a busy period of 2014 World Cup qualification matches.
Trinidad and Tobago, Barbados and Guyana who each have officials on the FIFA list have been drawn in a four-team, second-round group that is played from September to November. Their group is completed by Bermuda, whose officials were among the original whistle-blowers exposing the scandal.
The scandal has already brought down the most powerful man in North American and Caribbean soccer, Trinidadian Jack Warner.
Warner, an FIFA executive committee member for 28 years and was president of CONCACAF and the Caribbean Football Union, resigned all his soccer duties and privileges in June rather than face FIFA justice. A leaked report revealed that the five-man ethics panel believed it had "compelling" evidence of a bribery conspiracy between Warner and his longtime FIFA colleague bin Hammam.
FIFA's case was built on whistleblowers' evidence from the Bahamas, Bermuda, Cayman Islands and Turks and Caicos Islands who said they were offered brown envelopes stuffed with four piles of $100 bills.
Officials from Puerto Rico, Surinam, Aruba, Curacao and Grenada then cooperated with the FIFA investigation by confirming they were offered $40,000 payments. A 10th CFU member, Cuba, did not attend the conference in Port of Spain. FIFA is investigating one Cayman Islands official, federation vice president David Frederick.
The 15 remaining Caribbean soccer federations were invited to meet Freeh's investigators for questioning in Miami or the Bahamas. Some did not attend either session, and others accepted FIFA's expenses-paid invitation, though stood by earlier denials that any corruption took place in Trinidad.
FIFA issued a warning after bin Hammam was banned July 23 that officials had another 48 hours to give explanations and confessions or "be subject to the full range of sanctions."
Tarnished by the scandal, bin Hammam withdrew his candidacy three days before the FIFA election, though he denies the allegations.
The 75-year-old Blatter was left unopposed to receive a fourth four-year term. He was endorsed by 186 of FIFA's 208 national members, including most Caribbean islands. Blatter then pledged to reform FIFA in his final term.
Bin Hammam, the Asian Football Confederation president, has promised to appeal his ban at FIFA, the Court of Arbitration for Sport and Switzerland's highest civil court.
Based on reporting by The Associated Press.
Follow us on twitter.com/foxnewslatino
Like us at facebook.com/foxnewslatino