State Legislators Introduced a Record Number of Immigration Proposals This Year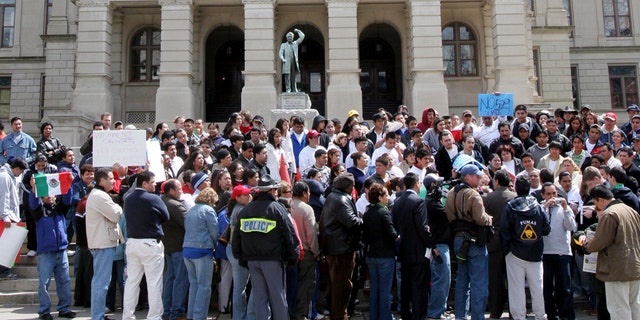 It was a record year for state immigration bills and resolutions.
Legislative proposals addressing immigration – particularly undocumented immigration – were introduced in every state in the nation. Nearly 1,600 bills and resolutions were introduced, the highest number ever for such proposals, according a new report by the National Conference of State Legislatures.
But the number actually enacted was lower than the previous year, the NCSL said.
States approved 151 laws and 95 resolutions, amounting to 246 immigration proposals, as of June.
During the same period last year, 44 state legislatures had approved 191 laws and 128 resolutions – or 314 total proposals, the group said.
"Immigration is one of the most pressing issues facing state legislatures," the NCSL said in a release about its data, "and state policymakers have received little to no help from the federal government. The task of creating comprehensive and effective immigration policy has been left to the states."
Most of the proposals dealt with such things as law enforcement, driver's licenses and employment, the group said.
Last year Arizona passed SB. 1070, which allowed police to enforce immigration laws and made state a symbol of the frustration among many local officials across the country over the federal inaction over illegal immigration.
Other states – Utah, Georgia, Alabama, Indiana and South Carolina – have since joined Arizona in passing laws that seek to crack down on undocumented immigrants. Civil rights groups have challenged the state laws, and have asked federal judges to block them from taking effect.
The U.S. Justice Department has filed suit against some of the states, arguing that immigration is a federal matter.
Efforts to pass immigration bills failed during the Bush Administration, when it seemed that a bill by Sen. John McCain, R-Arizona, and late Sen. Ted Kennedy, D-Massachusetts, stood a chance of becoming law.
But despite a hard push by President Bush, who lobbied for the bill through telephone calls to members of both parties, and a flurry of meetings between Republicans and Democrats in Congress, the bill failed.
Democrats wanted a bill that would include a pathway to legalization for undocumented immigrants who qualified under a certain set of criteria, but many Republicans objected, saying it was a form of amnesty and a reward for lawbreakers that would only generate more illegal immigration.
Follow Elizabeth Llorente on Twitter: @LlorenteLatino
Elizabeth.Llorente@FoxNewsLatino.com
Follow us on twitter.com/foxnewslatino
Like us at facebook.com/foxnewslatino