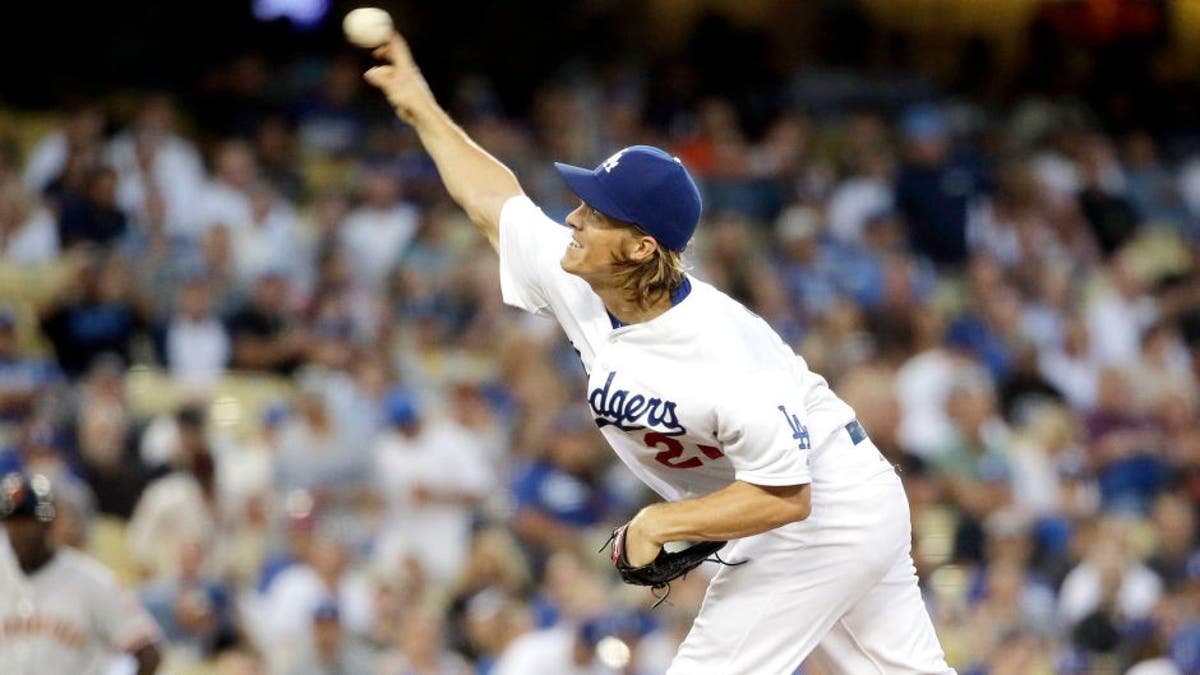 LOS ANGELES -- Zack Greinke beat Madison Bumgarner in a premier pitching matchup, and the first-place Los Angeles Dodgers defeated the second-place San Francisco Giants 2-1 on Tuesday night for the second time in the same day.
The Dodgers increased their division lead to 5 games after taking the series opener 5-4 in 14 innings in a game that ended at 12:39 a.m. PST Tuesday. They have won seven of their last eight.
Greinke (15-3) allowed one run and five hits in 7 1/3 innings. He struck out five and walked one while improving to 7-0 in seven starts against the Giants since joining the Dodgers in 2012.
Kenley Jansen pitched the ninth for his 28th save in 30 chances.
Bumgarner (16-7) was coming off a dominant August, going 5-0 with a 1.43 ERA and 53 strikeouts in 37 2/3 innings. In his first September start he gave up two runs and eight hits in seven innings, struck out eight and walked one.
Giants manager Bruce Bochy and Jake Peavy, the starting pitcher in the series opener, were both ejected by home plate umpire Mark Winters in the seventh when San Francisco failed to score with runners on second and third. They lost their fourth straight.
The Giants cut the lead to 2-1 in the eighth on Matt Duffy's RBI single before Luis Avilan relieved Greinke. The Dodgers turned an inning-ending double play, with Jose Peraza jumping on Brandon Belt's hard-hit grounder and flipping the ball to Jimmy Rollins covering at second who then fired to Adrian Gonzalez at first.
Gonzalez's RBI single gave the Dodgers a 1-0 lead with two outs in the third. Joc Pederson homered leading off the seventh, making it 2-0.
Greinke had runners on first and third in the seventh when he gave up a leadoff single to Belt and walked Buster Posey. But Greinke got three consecutive outs to end the inning, including a called third strike to a frustrated Alejandro De Aza.
Greinke had two runners on in the third. After a leadoff single to Posey, Peraza tried to catch a ball hit by Kelby Tomlinson that bounced in and out of his glove before dropping to the grass. Greinke then retired 13 consecutive batters.
TRAINER'S ROOM
Giants: SS Brandon Crawford didn't play because his left calf swelled up after he got hit by a pitch Monday. He's expected to be out a couple of days. ... OF Gregor Blanco didn't start because his neck bothered him, but he pinch-hit in the eighth and singled and scored. ... RHP Tim Hudson and CF Angel Pagan were reinstated from the DL. Pagan started and went 1 for 4.
Dodgers: RHP Joel Peralta was reinstated from the DL. ... RHP Josh Ravin was recalled from Triple-A Oklahoma City and placed on the 60-day DL with a left hernia.
UP NEXT
Giants: RHP Mike Leake (9-6, 3.53 ERA) will make his fourth start since being acquired from Cincinnati on July 30. He came off the DL on Aug. 22 after missing 18 games with a strained left hamstring. He's 2-3 with a 5.35 ERA in six career appearances against Los Angeles.
Dodgers: LHP Clayton Kershaw (11-6, 2.24) is 6-0 with a 0.92 ERA in his past 10 starts. He has struck out 96 while walking just eight. He last faced the Giants on May 21, allowing four runs and seven hits in 7 1/3 innings of a 4-0 loss.