Gophers' all-senior secondary ready to prove worth against TCU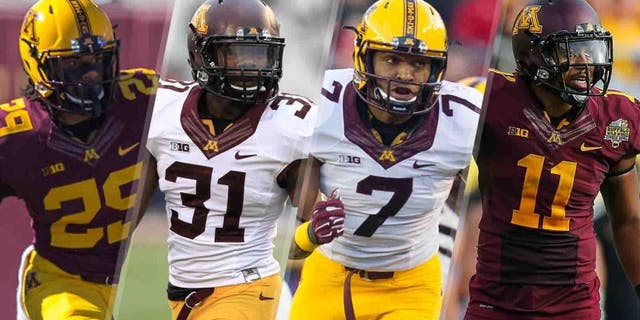 MINNEAPOLIS -- The Minnesota football program has hardly been prone to some catchy nickname like Cornerback College or Safety School.
Now, in another sign of progress under coach Jerry Kill and his staff, the Gophers have an all-senior group of legitimate NFL prospects manning the four defensive back positions.
"They'll have their biggest test right off the bat," Kill said.
That'll take place Thursday when TCU, ranked second in the preseason Associated Press poll, brings star quarterback Trevone Boykin and his band of fleet-footed wide receivers to TCF Bank Stadium for the most anticipated opener Minnesota has ever had in the sport's modern era.
"We ran with them a year ago," defensive coordinator Tracy Claeys said. "A couple of the fades, we were right there and their receivers made great catches, and you're going to lose a jump ball every now and then. You go through all the film, and they didn't outrun us."
Even in those good seasons of the past for the Gophers, the secondary was often, well, secondary. In the last 30 NFL drafts, Minnesota has had seven defensive backs selected, and safety Tyrone Carter (2000) was the only one whose pro career was remarkable. But two of those, safety Brock Vereen and safety Cedric Thompson, have come in the last two years.
With cornerbacks Briean Boddy-Calhoun and Eric Murray and safeties Damarius Travis and Antonio Johnson, barring injuries that streak is almost sure to continue next spring. With Vereen with the Chicago Bears and Thompson with the Miami Dolphins, the current Gophers have some friends to follow.
"I bled with those guys. I sweat with those guys every single day," Boddy-Calhoun said. "And when I first got here it was like a dream to go to the NFL. Playing with some teammates that are in the NFL, it's a reality now."
Getting the elite athletes with the 4.3-second 40-yard dash speed will always be a challenge for the Gophers, even if they're able to turn the corner under Kill and become a consistently winning team that occasionally challenges for the conference championship. That's where the pressure will stay on Kill and his assistants to target the right recruits.
Murray arrived as a wide receiver from Wisconsin. Boddy-Calhoun, who grew up in Delaware, was at a junior college in Kansas when Kill found him. Travis, from Florida, was as much a basketball star in high school as he was a football standout. Johnson, an Ohio native, was a running back when he came to campus.
"I think we did a good job of projecting kids," Kill said, adding: "We've just been able to recruit good in the secondary."
The tough love of defensive backs coach Jay Sawvel has had an influence, too, as has the leadership of Boddy-Calhoun, a fifth-year senior who has already earned his degree in elementary education. He initiated a summer-long session for the defensive backs dubbed "Football Fridays," when the group would arrive at the practice facility around 5 a.m. and stay until 6 p.m. with the only breaks for meals. Otherwise, they went all in on conditioning, weight lifting, on-field drills and film study.
For Boddy-Calhoun, the idea was partially a response to how quickly a college career can pass, even for a player who's 22.
He recalled, recently, the November day he became a Big Ten player after one season at Coffeyville Community College in Kansas, where Kill knew the head coach.
"I get a call from a man named Jerry Kill. And as I'm talking to him, I'm like, 'Who is this guy?' I've got my friend's phone. I'm googling him. I'm like, 'Whoa, he's really the head coach for Minnesota.' And he offered me there," Boddy-Calhoun said, adding: "To have a head coach from the Big Ten call you? I was like, 'I'm sold. I'm sold on this guy.' I wanted to go somewhere where I felt that I was wanted, and I really felt wanted here. And If I got recruited again, I would be here again."