Good news, bad news for Kyle Busch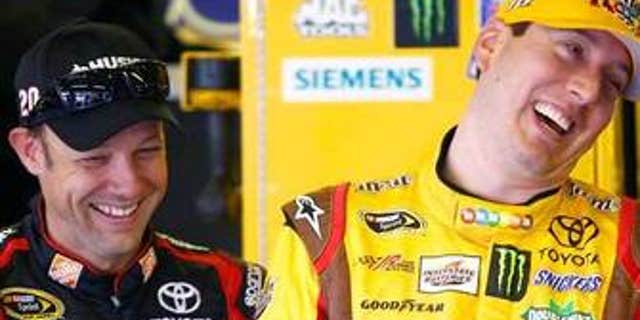 If you told Kyle Busch before this year's Chase for the Sprint Cup started that he'd finish second in each of the first two races of the season, he'd probably tell you he'd have been happy with that.
Busch, of course, historically has struggled in the Chase, never finishing higher than fifth in points and never finishing higher than eighth since joining Joe Gibbs Racing.
In what would be referred to in NASCAR vernacular as one of those good-news-bad-news deals, Busch has had a great start to the Chase this time out, finishing second at Chicagoland Speedway last week and second again in Sunday's Sylvania 300 at New Hampshire Motor Speedway.
The bad news? The only guy to beat him in either race was his JGR teammate Matt Kenseth, who swept both of the victories. Still, Busch heads to Dover International Speedway second in points, just 14 behind Kenseth as he pursues his first NASCAR Sprint Cup championship.
That's important, because through just the first two races in the Chase already, five drivers are at least one full race behind in points. And while Kenseth's having a dream season so far, Busch is still well within striking distance, just 14 points behind Kenseth.
For most of this season, Busch and his No. 18 team have demonstrated a resiliency through adversity that they haven't always had in years past.
Sunday's New Hampshire race was no exception. Busch's car wasn't especially fast in practice, qualifying or the early stages of the race. But he, crew chief Dave Rogers and the team kept getting it better throughout the race.
Busch qualified 12th and 75 laps through the 300-lap race was running 10th. At the midway point, Busch was up to seventh and on Lap 225 had moved up to sixth. At no point in the first three quarters of the race did Busch ever lead. But he never fell too far back, either. And at the end, he had worked his way all the way up to Kenseth's bumper, finishing second by just 0.533 seconds.
"I can't say enough about the race we ran today," Busch said after the race. "The guys did a great job of working on it for me and getting me better each and every run. I felt like we were making gains. And track position is certainly important, too. A little tough to pass, but that's been the name of the game here at Loudon (N.H.) for years."
Still, Busch conceded his teammate had the faster car on this day.
"Certainly we were never as fast this weekend as the 20 (Kenseth) was," said Busch. "They just had a special car. Sometimes you unload with them, and they're just phenomenal. The 20 had that here this weekend. We tried everything to try to keep up with him and to get pace with him, but it was tough to do."