Gomez Won't Apologize For Brawl As Brewers Blank Braves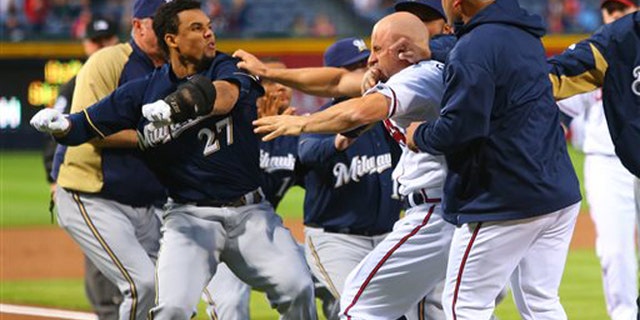 Atlanta – Milwaukee Brewers center fielder Carlos Gomez believes he picked the right way to get back at Paul Maholm for hitting him with a pitch earlier this summer.
Gomez, the Brewers' top slugger, stirred emotions on both teams Wednesday night as the game's second batter.
As soon as he homered, Gomez stood in the batter's box watching the ball sail into the seats in left field, stared at Maholm and flipped his bat behind him.
Gomez, who was yelling at Maholm as he slowly trotted up the first base line, was clearly still upset that the pitcher hit his leg with an 88 mph fastball in the Brewers' 7-4 home loss to Atlanta on June 23.
"I don't apologize for this," Gomez said. "Just take the pain back. You can see the replay. They hit me for no reason, and I tried to get it back today. It's the only opportunity that I have. That's what I did."
The argument continued as Gomez slowly trotted across first and began jawing with Freeman, who said he told Gomez to "act like he'd been here before" and run the bases.
"If you have a beef with the pitcher, have a beef with the pitcher," Freeman said. "Don't make us get involved. That's us. We're going to back up our pitcher. I'm fine with how everybody handled it."
Gomez touched second and third without incident before Brian McCann, Atlanta's catcher, stood in the third base line about 20 feet from the plate and stopped him.
The benches emptied, and Gomez was ejected for shoving Braves reserve outfielder Reed Johnson and Freeman for pushing a pile of players and coaches.
Dana DeMuth, the third base umpire and crew chief, didn't hesitate to eject Freeman.
"Right when he came in, he went boom with an elbow, which we saw, and it caught the third baseman, (Aramis) Ramirez," DeMuth said. "That right there is just like throwing a punch. That is overaggressive. That, No. 1, calls for an ejection. What we saw out there was the same as we saw (on video). There was nobody else that was overly aggressive other than Gomez, of course."
Gomez never touched home plate, but the Brewers were still credited with a run because McCann was charged with obstructing the runner.
Atlanta Braves first baseman Freddie Freeman thinks Gomez acted way out of line.
Either way, Atlanta's offense struggled again, and the Braves lost a critical three-game series to the Milwaukee Brewers.
"It's a tough game and unfortunately I got kicked out in the first inning for doing nothing," Freeman said. "It's a little frustrating."
The NL East champion Braves were shut out for the second time in three games, falling 4-0 on Kyle Lohse's two-hitter Wednesday night.
After losing three of four, Atlanta (93-65) has fallen two percentage points behind the St. Louis Cardinals (94-65) for the NL's best record.
Based on reporting by The Associated Press.
Follow us on twitter.com/foxnewslatino
Like us at facebook.com/foxnewslatino