'Glee' star Monteith is crazy about Canucks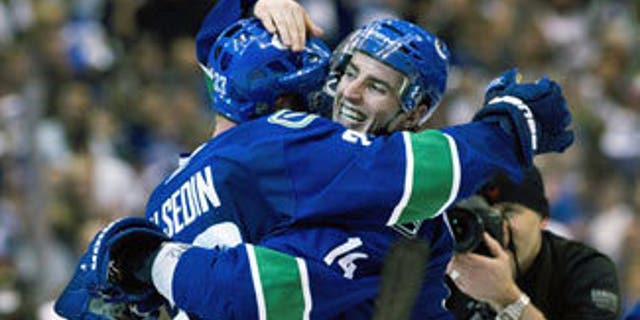 Fans of the hit television show "Glee" know him best as Finn Hudson, quarterback for the McKinley High School football team, but in real life actor Cory Monteith is actually as Cup crazy as anyone this time of year and enjoying every moment of playoff hockey he can catch.
Monteith was born in Calgary and raised in Vancouver, where over the years he became a devout follower of the Canucks. Currently in New York with the "Glee" cast to film the season finale, Tuesday night's Game 7 of their Western Conference quarterfinal-round series with the Chicago Blackhawks provided some nail-biting moments for him, not the least of which was finding a venue to follow the action.
"I watched it at some random bar over by the hotel where I'm staying," Monteith told NHL.com on Wednesday. "I was hanging out with a bunch of friends and everybody left. Everybody ditched me, because they weren't hockey fans. So I was cruising around by myself looking for a television to watch it at."
Dealing with the intensity of an elimination game and the shorthanded goal by Blackhawks captain Jonathan Toews that sent the game to overtime was enough to cause Monteith the type of agita familiar to his fans who obsess over whether Finn belongs with Quinn or Rachel. Thanks to Alexandre Burrows, though, the Canucks play on.
"It was a cliffhanger, man. When Chicago tied it up with a minute-thirty left in the third period I just about barfed," he said. "I just felt like it was close, but Vancouver's playing really great. It's amazing. They're playing aggressive, physical, smart hockey. It's good to see that they're really capitalizing."
Monteith, who attends NHL games whenever he gets the chance, said his real passion for hockey developed in the last several years, but that the game was always part of the periphery of his life.
"It's a part of your genetic make-up when you grow up in Canada, watching the CBC and stuff," he said. "You watch hockey. Hockey would be on the television. Even if you're not a hockey fan, you're watching hockey."
The most recent game Monteith attended was a Canucks-Kings game at the Staples Center in Los Angeles, where he sat right up by the glass with a number of his "Glee" castmates, including Matthew Morrison.
So has Monteith managed to turn any of his fellow stars into diehard NHL fans?
"Not yet," he said, laughing. "I'm converting them slowly."