Giants' Casillas on Tom Brady: 'I think we frustrated him'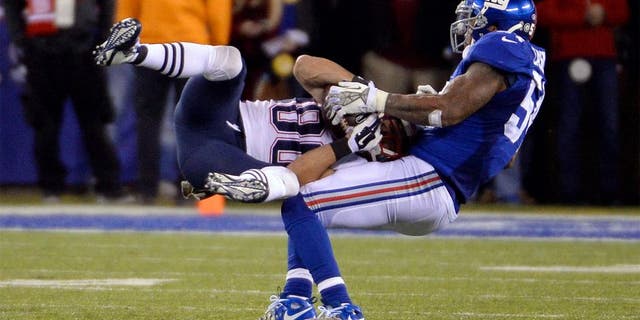 The Giants are getting more pressure on the quarterback ever since Jason Pierre-Paul returned to the lineup. Robert Deutsch USA TODAY Sports
The New York Giants finished with 3 sacks, 3 hits and 21 additional hurries in Week 10 against New England Patriots quarterback Tom Brady. They had previously totaled just 9 sacks in nine game. Linebacker Jonathan Casillas talked about rattling one of the best to ever play the game.
"I think we frustrated him. I think we had him frustrated I wish we could have capitalized on that and actually won the game," linebacker Jonathan Casillas said about Brady, per NJ Advanced Media.
"Incomplete passes. Throwing the ball away. He's a fiery guy and I saw him fired up a little bit," Casillas said. "He's one of those guys if you let him sit back there and give him a clean pocket, which I don't think he had a lot of -- we hit him a couple times and he gets the ball out in two seconds per throw, which is extremely fast. And we were able to get to him a couple times."
With Jason Pierre-Paul back in the mix and a healthy Robert Ayers, the Giants could surprise people with a much improved pass rush down the final stretch of the regular season.