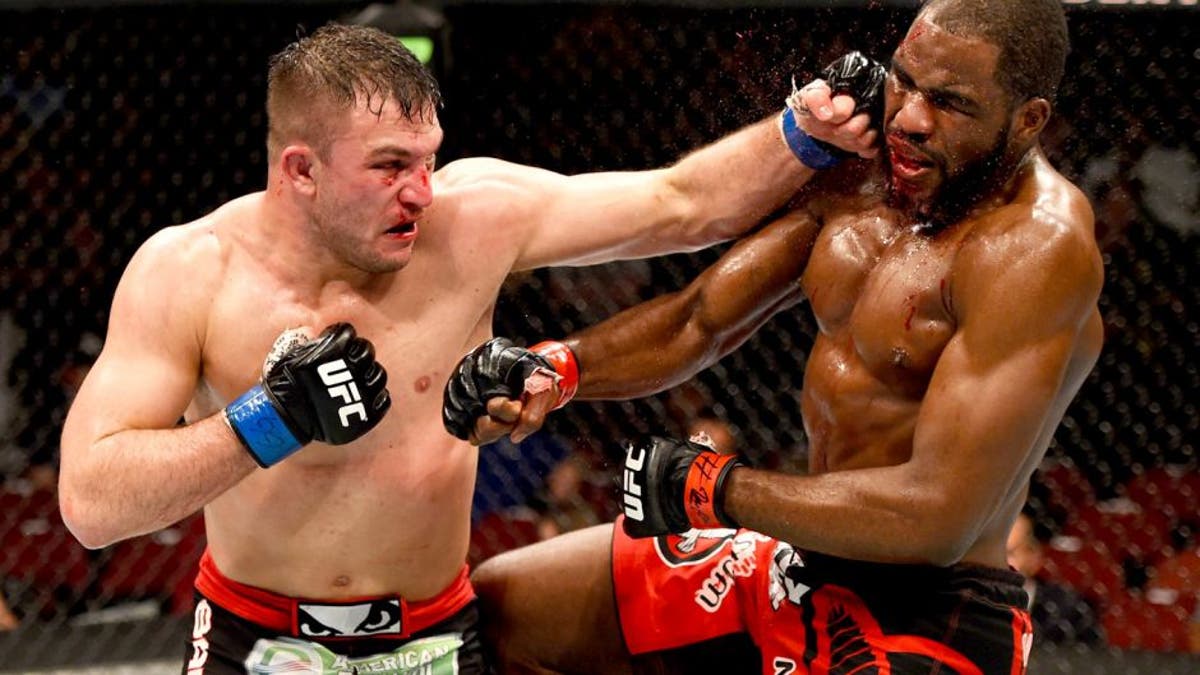 Gian Villante is comfortable in a hard scrap. That's been well evidenced throughout his career, and certainly was in his most recent fight.
In April, Villante scored a TKO victory over Corey Anderson, but only after absorbing an amazing amount of strikes, and sustaining a great deal of damage. He's glad he earned the win and appreciates his opponent for the effort he gave, but the blood-and-guts fighter also admitted to us that he would've been just fine had his face not gotten swollen in the process.
"It wasn't great looking back it," he laughed.
"One of my eyes was swollen shut. It's the first time I had a swollen eye like that but it was a tough fight. The kid hit hard and he kept coming. I think he threw like 300 punches which is unheard of for a light heavyweight. That's just crazy. He had really great cardio and I give him all the credit. You've got to give your opponent credit who was willing to do that with you. I wish him the best in his career."
Villante carries that same gameness and humility with him into his UFC on FOX bout against the returning Tom Lawlor this Saturday. His "Filthy" opponent won't just be stepping into the Octagon for the first time in two years, but he'll also be stepping back up in weight to 205 pounds.
Villante certainly thinks size and strength will be advantages for him, but he always feels that way. "I always anticipate that I'm the bigger, stronger guy in there against anyone in the division, not just a guy coming up from 185," he told us.
"I played football, so physically I just feel like I'm a strong dude. But he also fought another guy who is about as big and strong as it gets at 205 - he fought Kyle Kingsbury - who is as big and strong as it gets at 205."
Even as Villante pats himself on the back confidently by saying with assurance that he expects to be the stronger fighter, he gives credit to his crafty opponent. "I don't think he'll have that much of a problem dealing with it," he continued.
"He's a veteran, tough guy. Knows what he's doing. If he had any problem going up, he wouldn't do it. He knows what he's doing. I expect a tough, tough fight. A war. We're going to put on a good show and I think that's always what I try to do."
As for possible rust needing to be shaken off by Lawlor after his long absence from competition, Villante actually believes it could have worked to his advantage. So, he expects a healthy and improved Lawlor, and that's exactly what he's prepared for.
"I'm sure he got better. I'm sure he's been practicing. It's not like he's been sitting on his butt. I'm sure he got better," Villante assured.
"I anticipate a tough guy and I expect the best Tom Lawlor. That's all I could do. I'm not going to go in there and expect anything less than the best Tom Lawlor that he's ever been so that's what I'm ready for."