Georgia police say Rockets star Dwight Howard under investigation for alleged child abuse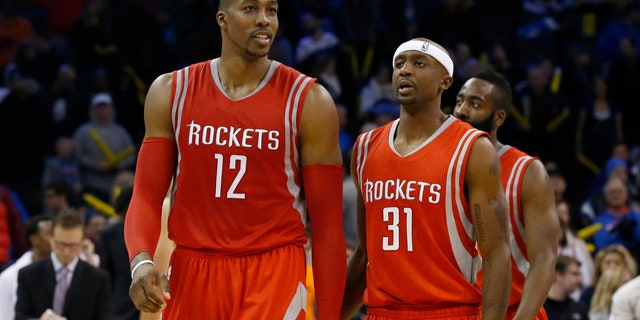 NEWYou can now listen to Fox News articles!
Police in Georgia say they are investigating Houston Rockets center Dwight Howard for suspected child abuse.
The Atlanta Journal-Constitution cited police in Cobb County, which covers several suburbs of the city, in reporting the investigation Tuesday. It is the second time that Cobb County Police have investigated Howard over child abuse allegations, though the eight-time NBA All-Star has not been charged.
The allegations were brought by Howard's ex-girlfriend Royce Reed, with whom he has a 7-year-old son. Cobb County Police Sgt. Dana Pierce told USA Today that the initial abuse report was made Oct. 1. An initial investigation resulted in no further action, but Pierce said that information received by police within the previous 48 hours necessitated a second look at the case.
Howard's attorney David Oscar Markus, said Reed's allegations were an attempt to extort money from Howard, who is seeking full custody of the boy.
"The Florida Department of Children and Families thoroughly examined all of the evidence and determined that the claims of child abuse were not substantiated," Markus said in a statement. "The case was closed in September.
"Royce Reed is now shopping her baseless allegations to authorities in Georgia after the Florida DCF case was closed. Even though the allegations have already been found to have no merit, when a complaint about the welfare of a child is made to law enforcement, an investigation is commenced. We are confident the Georgia authorities will reach the same conclusion as the Florida authorities. The truth is on our side."
Pierce said that the initial investigation was made at the behest of the Howard Phillips Center for Children and Families, an Orlando-based agency. Howard played for the Orlando Magic from 2004-2012.
World of the renewed investigation came the same day that the NFL announced it had suspended Minnesota Vikings running back Adrian Peterson for at least the remainder of the 2014 season and would not be eligible for reinstatement until next April. Peterson accepted a plea deal after being charged with felony child abuse of his son in his home state of Texas.
Click for more from the Atlanta Journal-Constitution.
Click for more from USA Today.