Free agent Zach Zenner rushes his way onto Detroit Lions' roster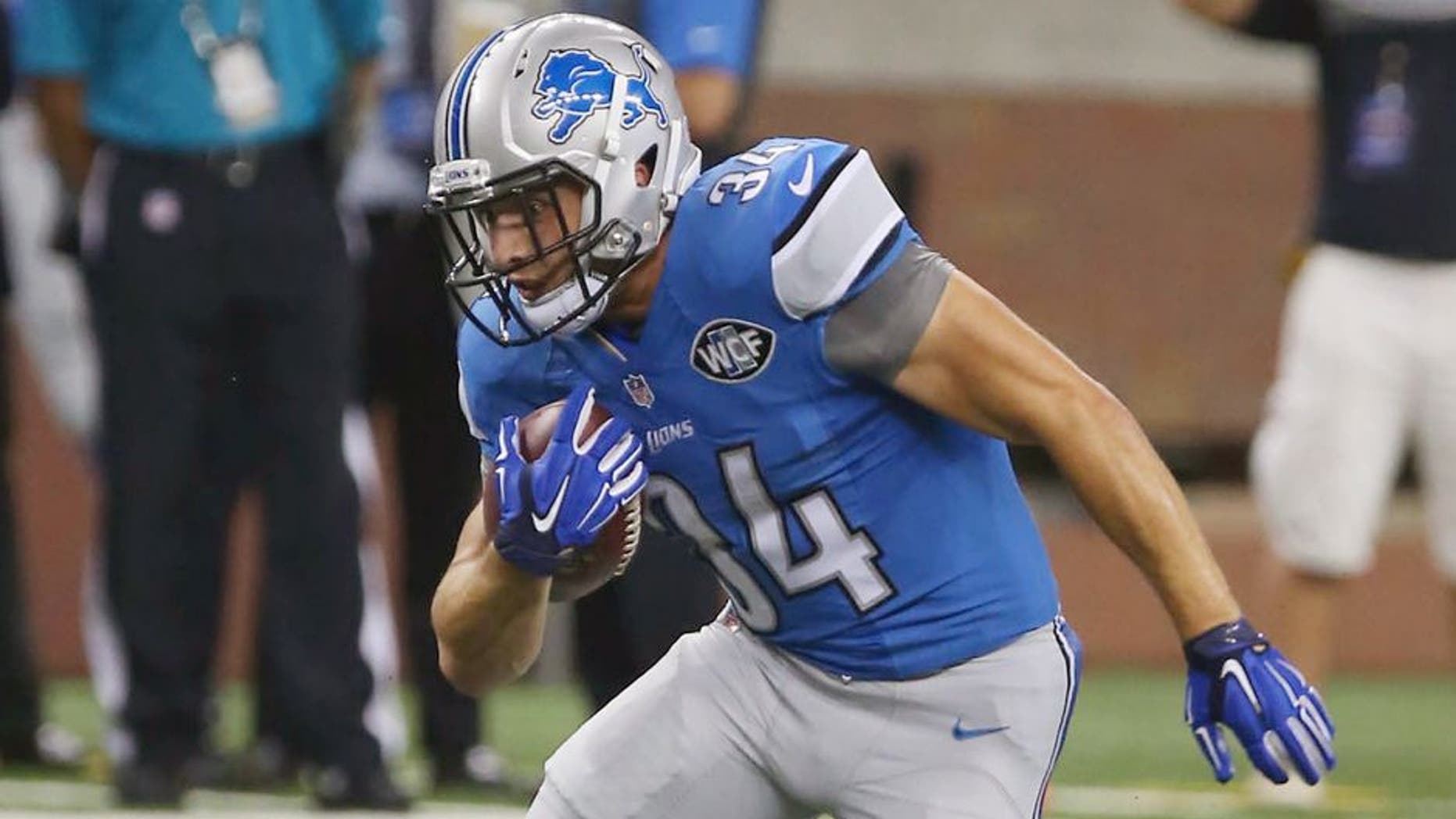 South Dakota State was about three quarters of the way through one of the biggest wins in school history on Saturday when Zach Zenner, the Jackrabbits' star running back for the last three years, got the call he'd been waiting for his entire life.
It was Detroit Lions running backs coach Curtis Modkins letting him know he'd made the team's 53-man roster after a spectacular preseason in which Zenner led the league in rushing. A short time later, SDSU finished off its 41-38 upset of Kansas, earning the program's first win over an FBS foe as the Jayhawks fumbled away their chance at tying the score in the game's final seconds.
All in all, not a bad afternoon for Zenner, already a fan favorite in Detroit and a rookie who's hoping to build on his spectacular introduction to the NFL thus far when the Lions begin the regular season on the road Sunday against the Chargers.
"It was awesome to make the team, but right now it's really just about preparing for that next week," Zenner told FOX Sports in a phone interview Wednesday. "It's not like you have a whole week off to soak it in. It's just right on to San Diego and trying to continue to get better as a football team and as a player."
An undrafted free agent, Zenner made a strong impression during the preseason, carrying the ball a team-high 35 times for 183 yards and two touchdowns, each of which came on strong efforts inside the opponent's 5-yard line:
Zenner also had a 41-yard carry against the Jaguars, his longest of the preseason, and showed promise in the passing game as well, catching eight passes for 66 yards, including both a 36-yarder and a 5-yard touchdown against Washington. Still, Zenner downplays the touchdowns and big plays as him just doing his job.
"I'm supposed to score, supposed to make plays like that and get in the end zone," Zenner said of his scoring chances. "But it was still cool to be able to do it, and hopefully I can get one in the regular season. As far as how much it helped (him make the team), it's so hard to say. I'm not in that room and I'm pretty new to this whole process, so it's difficult for me to tell how much those individual plays helped, but it can't hurt.
"It was nice to get in the open field a little bit," he added of the longer pickups, "but if you go back and look at those plays, I think anyone could have gotten those yards."
Regardless, Zenner said he's grateful for the opportunity he has with the Lions and is glad to have seemingly made such an impression.
"I tried to keep a really open mind about my expectations and what it was going to be like," Zenner said of his approach going into the preseason. "In some ways, it was different (from what he expected). It's just football at the end of the day ... but you have this view of the NFL -- when you're a kid, especially -- as it being out of this world, this incredible game. And then to get here and find out it's the same game I've been playing my whole life. That, in itself, was a bit of a surprise."
As for his role going forward, Zenner said he'll be ready to do whatever the Lions and coach Jim Caldwell ask of him. That, after all, is often how undrafted rookies make the team in the first place, and that's how reserve running backs like Zenner make a name for themselves in the league. It's no promise he'll be the next Arian Foster, but it's not a bad approach to take..
"I just want to make the most of my opportunities when my number is called," said Zenner, who was officially assigned No. 34 this week after stints wearing 47, 34 and 41 since he signed with the team in May. "Really, I'm just happy to have a number."
And if Zenner plays his cards right -- which there's no reason to suspect he won't -- perhaps the Eagan, Minnesota, native will even get an opportunity to take the field in Week 2 when the Lions visit his hometown Minnesota Vikings.
"A lot of people (he knows) will be able to go to the game," Zenner said. "It would be a little bit surreal playing against the team I grew up watching."
You can follow Sam Gardner on Twitter or email him at samgardnerfox@gmail.com. You can also check out Zach Zenner's NFL Draft diary at FOXSports.com by clicking here.