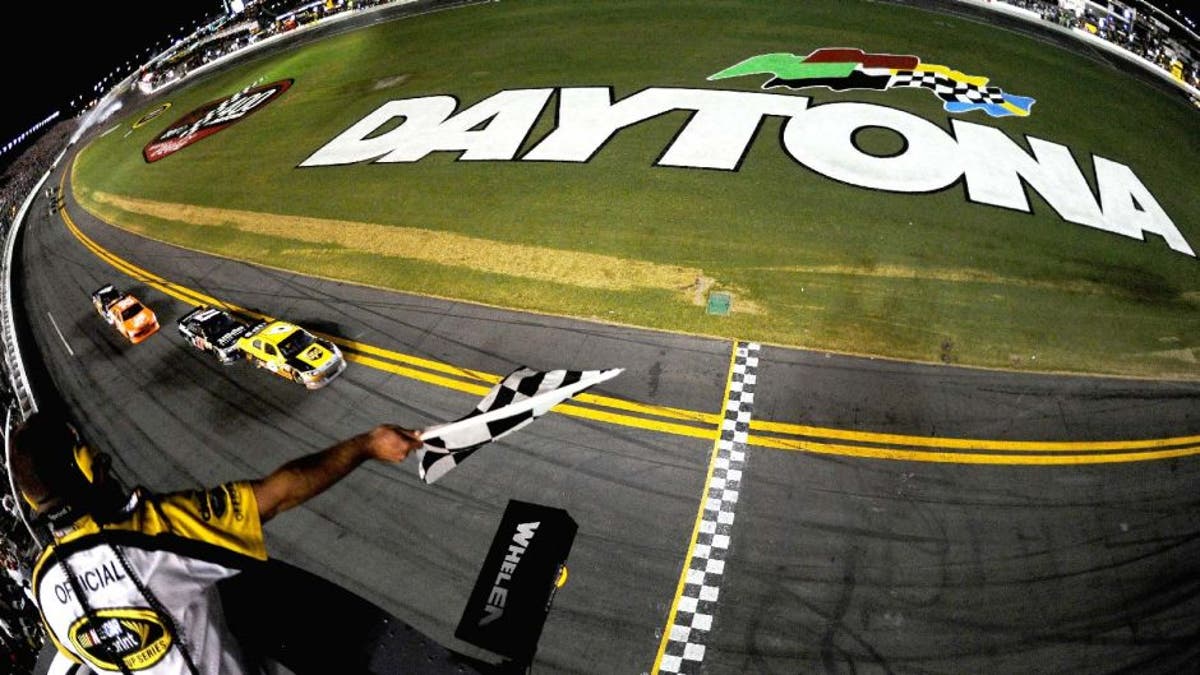 Headlined by the addition of four-time NASCAR champion Jeff Gordon, FOX broadcasts the 58th running of the DAYTONA 500 -- the Great American Race -- from the newly-renovated Daytona International Speedway on Sunday, Feb. 21 at 1 p.m. ET, with live coverage beginning at Noon ET with FOX NASCAR Sunday.
Marked by the network's 16th consecutive season covering the NASCAR Sprint Cup Series, FOX NASCAR's presentation of Daytona Speedweeks features approximately 100 hours of multi-platform programming, including the Sprint Unlimited, Cam-Am Duel at Daytona, and NASCAR XFINITY Series and Camping World Truck Series season openers.
FOX NASCAR returns in 2016 armed with seven championships' worth of analysis and insight from Hall of Famer and three-time champ Darrell Waltrip alongside Gordon and veteran play-by-play announcer Mike Joy, who will be covering his 41st Daytona 500.
The FOX NASCAR booth trio is bolstered by a deep and experienced on-air team featuring former crew chief and race analyst Larry McReynolds and pit reporters Jamie Little, Chris Neville, Vince Welch and Matt Yocum. Chris Myers hosts FOX NASCAR Sunday and the network's coverage from the famed Hollywood Hotel alongside Michael Waltrip, Darrell Waltrip and Gordon.
"The Great American Race" is streamed live in both English and Spanish through FOX Sports GO, the critically acclaimed app that provides live streaming video of FOX Sports content at home or on-the-go. All FOX NASCAR programming in 2016 is live streamed on FOX Sports GO. FOX Deportes, the No. 1 Spanish-language sports network in the U.S., also offers live coverage of the Daytona 500.
FOX Sports' Daytona Speedweeks coverage kicks off Firday, Feb. 12 on FS1 with Sprint Cup practice for the Sprint Unlimited exhibitiion race at 5 p.m. ET.
The Sprint Unlimited, the first NASCAR event of the 2016 season, airs live on FOX on Saturday, Feb. 13 at 8 p.m.. Joy, Darrell Waltrip and Gordon call the 75-lap, non-points race with race analyst Larry McReynolds and pit reporters Little, Welch and Yocum. Myers and Michael Waltrip will host the network's coverage from the Hollywood Hotel. This year's edition features 25 Sprint Cup drivers, including all 16 who qualified for the 2015 Chase for the Sprint Cup, 2015 pole winners, former Sprint Unlimited winners and former Daytona 500 pole winners.
Sprint Cup drivers hit the track the next day, Sunday, Feb., 14, for Daytona 500 qualifying, live on FOX at 1 p.m. ET, setting the prestigious first and second starting positions for the Daytona 500, as well as the starting order for the Can-Am Duel at Daytona.
The complete Daytona 500 starting order is determined following the Can-Am Duel at Daytona, live on FS1 on Thursday, Feb. 18 at 7 p.m. ET. The pair of qualifying races, historically one of Daytona Speedweeks' most exciting events, are under the lights with Joy, Darrell Waltrip and Gordon on the call with race analysis by McReynolds and pit reporting by Little, Neville and Yocum. Myers and Michael Waltrip host.
FOX Sports kicks off its sophomore year of coverage of the XFINITY Series from Daytona on Saturday, Feb. 20 with the season opener at 3:30 p.m. ET. Adam Alexander calls the action alongside Michael Waltrip and 2014 Sprint Cup champion Kevin Harvick with pit reporting by Little, Neville and Yocum. NASCAR RaceDay -- FS1's XFINITY Series pre-race show -- previews the action at 3 p.m. ET. Trotta hosts with analysis from McReynolds and Kenny Wallace.
The Camping World Truck Series opens its season on Friday, Feb. 19 (7:30 p.m. ET) on FS1, with complete pre-race coverage beginning with NCWTS Setup at 7 p.m. ET. Vince Welch, in his first year as FS1's Truck Series play-by-play announcer, has the call alongside Phil Parsons and Michael Waltrip. Hermie Sadler, Yocum and Kaitlyn Vincie cover pit road. Trotta hosts NCWTS Setup live from the Hollywood Hotel with analysis from two-time series champion Todd Bodine and reporting by Sadler and Vincie.
Before FOX coverage of the Daytona 500 begins on Sunday, Feb. 21, NASCAR RaceDay is live on FS1, bringing viewers the latest news amidst the buzz as drivers prepare to start the biggest race of the year. John Roberts hosts from the Charlotte studio and Trotta co-hosts from the FOX Sports set inside the new Daytona Rising stadium. They are joined by analysts McReynolds, Jeff Hammond and Wally Dallenbach. NASCAR RaceDay also airs immediately preceding the Sprint Unlimited and the Can-Am Duel on FS1.
FS1's daily NASCAR Race Hub, NASCAR's most-watched daily news and update show, hosted by Alexander and Trotta, continues into the weekends with NASCAR Race Hub Weekend Edition to update viewers on the day's happenings. Roberts hosts alongside Hammond with live, at-track reporting by Alan Cavanna, Andrew Doud and Vincie. NASCAR Race Hub's daily show returned in January for its eighth season, airing Monday through Thursday at its new time of 5 p.m. ET on FS1.
Daytona 500 Media Day is live from Daytona International Speedway on (9 a.m.-Noon p.m. ET) on FS1, followed by a special two-hour edition of NASCAR Race Hub, also from Daytona 500 Media Day (5-7 p.m. ET). Adam Alexander, John Roberts and Danielle Trotta co-host with analysis from McReynolds and reporting by Alan Cavanna and Little.
In addition, FOX Sports has several NASCAR specials planned during Daytona Speedweeks. On the eve of "The Great American Race," FOX Sports and FOX NASCAR analyst and four-time champion Jeff Gordon celebrate the race and 2016 season with Jeff Gordon's Daytona 500 Kickoff Celebration on FOX on Saturday, Feb. 20 (9 p.m. ET).
FS1 also premieres three NASCAR original specials during Speedweeks in a special three-hour programming block on Friday, Feb. 12. Untold Stories airs at 7:30 p.m. ET, followed by NASCAR Race Classic: 1993 Daytona 500 (8:30 p.m. ET) and Beyond the Wheel Short Film Series (9 p.m. ET). Fans are also invited to share their DAYTONA 500 experience by uploading videos to social media using #100KCams and #NASCAR for an opportunity to have footage included in the 30-minute special 100,000 Cameria: Daytona 500, which premieres Saturday, Feb. 27 on FS1 immediately following live coverage of the NASCAR Camping World Truck Series race at Atlanta Motor Speedway. For more information on these specials, please CLICK HERE.
And for hardcore race fans, catch even more live on-track action as the ARCA Racing Series season opener airs live on FS1 on Saturday, Feb. 13 at 4 p.m. ET. Alexander calls the race with analysis from Parsons and pit reporting by Ray Dunlap and Jim Tretow.