Forsythe, Turner homer, LA holds on to beat Reds, 8-7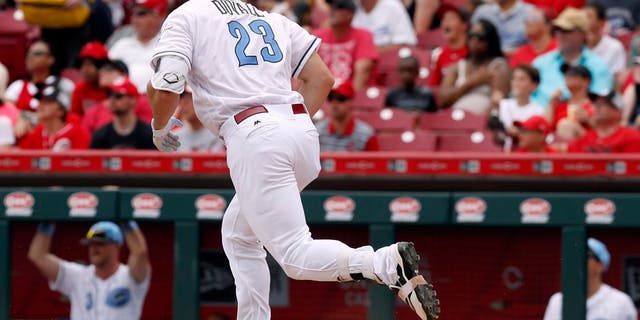 NEWYou can now listen to Fox News articles!
CINCINNATI -- Logan Forsythe and Justin Turner homered, Kenta Maeda pitched five strong innings and drove in two runs and Kike Hernandez made a spectacular game-saving catch as the Los Angeles Dodgers held on to beat the Cincinnati Reds 8-7 Sunday.
Cincinnati nearly rallied all the way back from an 8-1 deficit in the sixth inning. However, Hernandez went back to the left-field wall and made an awkward leaping grab of Joey Votto's attempt at a go-ahead extra-base hit with runners on first and third in the eighth.
Maeda (5-3), in his first appearance since June 9 and first start since June 4, allowed just three hits and one run in five innings to help the Dodgers complete a three-game sweep.
Scooter Gennett hit a three-run home run, his first since he had a major-league record-tying four on June 6, and Adam Duvall and Eugenio Suarez each added solo shots for the Reds.
Kenley Jansen got the last three outs for his 15th save
Bronson Arroyo (3-6), who was roughed up for nine runs and a career-high 13 hits in his last start at San Diego, lasted only three innings against the Dodgers, giving up five runs and seven hits.
Cincinnati scored more than three runs for the first time in six games, but still extended their longest losing streak of the season to nine games. Their skid, the longest since an 11-game streak in May 2016, started with a three-game sweep by the Dodgers in Los Angeles, setting up their first sweep of a season series with Cincinnati since 2006.
The Dodgers scored all of their runs with two outs, including Forsythe's two-run drive in the third inning and Turner's three-run shot in the sixth. Both of those shots reached the upper deck in left field and gave the Dodgers seven homers in the series.
The Reds loaded the bases with one out in the fourth, but scored just one run when Maeda grazed Scott Schebler with a pitch. Yasiel Puig's diving catch of Eugenio Suarez's sinking liner in short right field saved at least another run.
UP NEXT
Dodgers: LHP Clayton Kershaw (9-2) is 8-1 with a 1.49 earned-run average in 13 career starts against the Mets, who've hit a combined .177 against him.
Reds: RHP Scott Feldman (5-5) was roughed up for eight hits and four runs in five innings in his last start on Tuesday at San Diego.