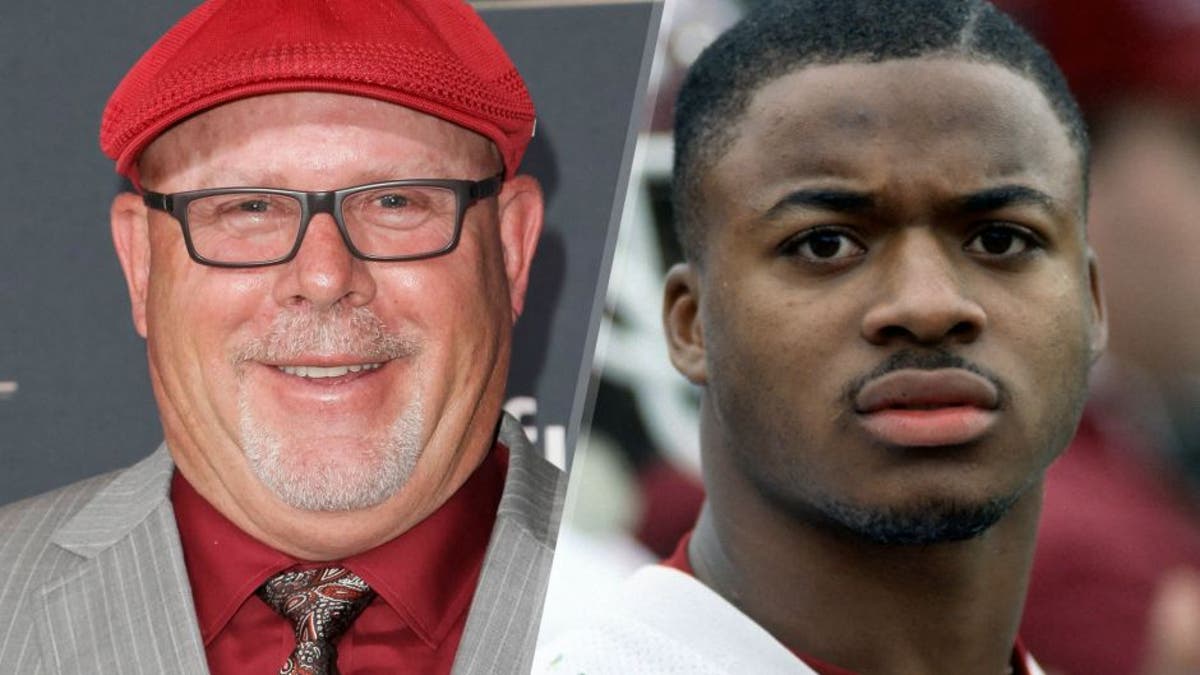 The saying goes always a bridesmaid, never a bride. That seemed to be the story of Bruce Arians' coaching career.
After being fired from his first head-coaching gig at Temple in 1988, Arians couldn't find another permanent head-coaching job until the Arizona Cardinals hired him in 2013.
"I know for sure that [Coach Arians] was kind of done with coaching [at one point]," former Temple running back Paul Palmer told FOX Sports this week. "And he'll probably tell you, but Coach and I had talked and he was planning on going to Atlanta and just retiring. And I swear a couple days later after he and I talked, all of the sudden he was getting a job to coach. And I said, 'I thought you were done?' And he said, 'I thought I was done, too, but they keep pulling me back.'"
And come back he did. After stints as an assistant for the likes of the Chiefs, Saints, Colts and Steelers to name a few, Arians now has his 13-3 Arizona Cardinals in position to make a run at a Super Bowl.
"I'd love for coach, love, love, love for coach to get a Super Bowl ring as the head coach," Palmer said. "He has a little hardware from Pittsburgh as the coordinator, but as a head coach, that would just be incredible. That would validate everything."
Palmer has known Arians since the beginning.
Young Bruce Arians got his first head coaching job when he was hired to lead Temple in 1983. In his first recruiting class was running back Paul Palmer from Potomac, Md.
"I'm forever grateful to him," Palmer said. "He's the only head coach that thought I was worthy enough of a scholarship."
"My first year in college, I'm a rookie, a freshman in college football," he continued, "and he's kind of like a freshman as a college football coach. So we kind of took care of each other for four year ... I grew as a young man and he grew as a coach those four years. So, a lot of what we both have is because of each other."
That growth included taking a player nobody else was interested in with a fumbling problem and turning him into a Heisman Trophy finalist.
"It's strange because I don't recall being younger and having a problem holding onto the ball, but for some reason, when I got to Temple, I would fumble and the ball would fly out of my arms," Palmer said. "I mean, now you see guys doing that rugby-style punt, where the punter steps to the side and punts end-over-end? I would fumble and the ball would come flying out of my arms like that, and it would roll 10-15 yards downfield end-over-end."
"Coach said to me, whether he believed it or whether he was blowing smoke up my behind, he said 'Son, if you just learn to hold onto the ball, you can be the greatest running back to ever play here.' And I was like, 'Wow, really?' And I believed it hook, line and sinker. And he was right. Obviously he saw something in me that I may not have even saw in myself ... I figured, hell, if he thought that much of me to bring me in, and if he believes this, then I thought I may as well believe it, too."
And Arians was right. Under Arians' "unafraid, never intimidated and aggressive" style, by the end of Palmer's senior year in 1986, he practically owned all of Temple's rushing records and was the Heisman Trophy runner-up to Miami quarterback Vinny Testaverde.
It wasn't just the on-the-field moments that made him a great coach.
"One of my good memories of Coach, the night before the Heisman banquet, we were riding up to New York [from Temple] in a limousine," Palmer said. "We're sitting in the car and … he reached over and pulls out a cassette, and he pops in this cassette. So we're sitting there and the music starts to play and he's playing Isaac Hayes. He's playing Isaac Hayes and he has this slick grin on his face that says, 'Yeah, you didn't think I knew anything about this stuff.' And I'm looking at him like, 'Holy cow, Isaac Hayes!'"
And after 30 years, the bond is still there.
When Arians won the Maxwell Football Club's 2014 NFL Coach of the Year Award, Palmer was asked to introduce him at the awards gala.
"Coach has been a confidant," he said. "There's been some things that I've discussed with Coach that I didn't discuss with anybody else. And it has never come forth. He's never said anything. He and I have barely talked about it again. He's been very good to me. Again I thank him. ... Most times when I get off the phone with him I tell him I love him. I always tell him I appreciate him because I don't know where I would have been if I hadn't gone to Temple and gotten a scholarship. Who knows where I would have ended up."
Palmer currently serves as the running backs coach for Haddon Heights High School in New Jersey and as a radio analyst for Temple football.
And as busy as both of their lives are, they stay connected, even if just through text.
"We always laugh about Coach," Palmer said. "As busy as he is, he always finds time to at least [text back] thank you. Or sometimes he'll send me something back that's a little profanity laced, but you kind of come to expect that. It's kind of funny, and we get a kick out of it. It's so typical him."
Arians' loyalty has never been in question. The Temple alumni often joke and call the Cardinals "Temple West" or "Arizona Owls." He's been known to hire his fellow Owls, including current Cardinals' special team coordinator Amos Jones, defensive backs coach Nick Rampone, cornerbacks coach Kevin Ross and New York Jets head coach Todd Bowles, who played under Arians at Temple and formerly served as his defensive coordinator.
When Arians travels to plays the Eagles in Philadelphia, there's always a get-together of his former players and coaching staffs.
"He's always glad to see us. He's always welcoming us with open arms ... He's just loyal. He's dependable," Palmer said "... I believe that if I had an emergency and called him, the first chance to get back to me, he would, and he would do all he could to make sure he helped me as much as he possibly could. But it's not just 'Oh, he would do this for Paul Palmer, a Heisman Trophy runner-up,' he would do it for any of his guys."