Former LSU teammates collaborate on limited-edition backpack line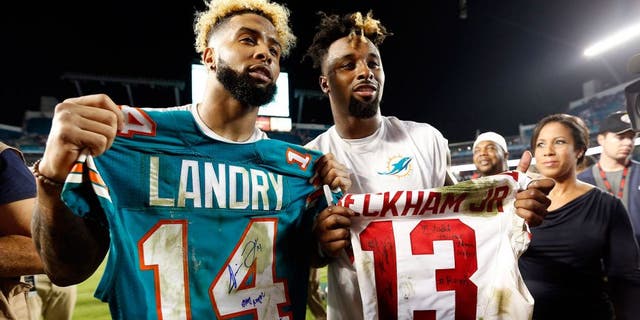 NFL stars Odell Beckham Jr., Jarvis Landry and Jeremy Hill all flash immense style on the football field.
Hill has established himself as one of the NFL's most consistent and effective running backs. Landry is a rising star within the league at the receiver position -- breaking the Miami Dolphins' single-season record for most receptions (110) this past year.
Beckham epitomizes the term "excitement" when it comes to his exploits as a football player. Making ridiculously difficult one-handed catches (while contorting his body in mid-air) with the greatest of ease, his athleticism is akin to that of an Olympic gymnast.
While the style they bring to the football field is truly spectacular, the trio is now taking some of that swag and integrating it into the world of fashion.
Working with NYC company Sprayground, the trio have come up with a limited-edition set of backpacks.
Paying homage to the "Royal Family" moniker (stemming from the troika's time at LSU together), each individual athlete's backpack is essentially a personalized work of art -- with characteristics emblematic of their own journey.
Hill's backpack in particular showcases his love for LSU and the city of New Orleans -- as it includes an illustration of Bourbon Street and what is presumed to be an LSU Tiger.
For those wanting to get decked out in some sweet gear, you may want to check out these backpacks.