Father of gay NFL prospect Michael Sam claims New York Times 'terribly misquoted' him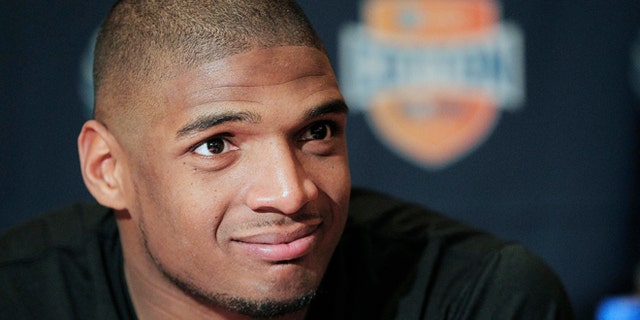 The father of the first openly gay NFL top prospect told a Texas newspaper he was "terribly misquoted" by The New York Times in a story about his reaction to his son's bombshell disclosure.
Michael Sam Sr. claims he never told the Galveston Daily News on Wednesday that he's from the "old school," a "man-and-a-woman type of guy" or that he didn't want his grandchildren to be raised in "that kind" of environment following his son's announcement late Sunday.
[pullquote]
"I did not say anything about my grandkids," Sam Sr. told the newspaper.
Sam, according to the Times, learned his son was gay on Feb. 4 via a text message he received while at a Denny's near his home outside Dallas.
"I couldn't eat no more, so I went to Applebee's to have drinks," Sam Sr. told the paper. "I don't want my grandkids raised in that kind of environment."
As evidence of his masculinity, Sam Sr. said he even took one of his eight children to Mexico to lose his virginity, according to the Times. But the elder Sam said pushed back on the newspaper's characterization of his take on Deacon Jones, a Hall of Fame defensive end known for his toughness who'd be "turning over in his grave" on the very idea of a gay NFL player.
"I told them that Deacon Jones is going to roll over in his grave because here comes my son and that he's going to be a star in the NFL," he told the Galveston newspaper.
Sam Sr. told the Times he loves his son and that he hoped he made it to the NFL, but noted the "many hurdles" black men face in America.
"As a black man, we have so many hurdles to cross," he said. "This is just one he has to cross."
On Wednesday, Sam Sr. told the Galveston Daily News that he's in "full support" of his son, a former Missouri defensive end projected to be a mid-round selection.
"My son did the right thing, and I am not against him at all," he told the newspaper. "He has made a great statement in coming out, and that he should be able to play in the NFL. I love him unconditionally. Once he gets on the field and hits (someone) once, they won't think he's gay."
The Times, meanwhile, is standing by its story.
"We generally are not inclined to discuss the details of our reporting, but I can assure you that we quoted Mr. Sam accurately and fairly," Times sports editor Jason Stallman wrote the newspaper in an email. "I've gone over it with our reporters, and everything was rock solid, beyond any doubt."
Calls seeking comment from Stallman and Sam Sr. by FoxNews.com were not returned Friday.
Reaction to Sam's announcement was swift and varied. Vice President Joe Biden, first lady Michelle Obama and President Obama's spokesman quickly praised the defensive standout as a courageous and inspiring athlete.
''Your courage is an inspiration to all of us,'' Biden posted on Twitter.
Sam is scheduled to participate in the league's weeklong scouting camp, where potential draftees are evaluated, later this month in Indianapolis.
White House spokesman Jay Carney said Sam's announcement should not affect his standing on the NFL draft, adding that his abilities should be measured by his performance.
''And in this case, his performance has been exceptional,'' Carney said.
In contrast, some players, including collegiate, former and current, have said the league may not be ready for a gay player.
Kent State University suspended a wrestler indefinitely for making a derogatory comment on his Twitter account about Sam. The Ohio school said Sam Wheeler, 20, first tweeted Monday using a homophobic slur, saying he couldn't watch a television program because they were talking about Sam. Wheeler exchanged tweets with others who defended Sam before his Twitter account was deactivated.
The Canadian Football League also fined two players for comments about Sam. Montreal Alouettes wide receiver Arland Bruce and Winnipeg Blue Bombers defensive tackle Bryant Turner Jr. were penalized undisclosed amounts on Tuesday for postings on social media. Bruce misspelled the word "gay" in his message, which urged Sam to "man up" and get on his knees and "submit to God fully."
One cornerback for the New York Giants, however, has made it clear he would not be comfortable with Sam as a teammate.
"I don't believe in it, I don't respect it, but if that's what you want to do, so be it,'' Terrell Thomas told The New York Post. "I can't speak for the NFL or our team or the locker room, I just know what goes on and what type of situation it's going to put a lot of guys in.''
The Associated Press contributed to this report.