FANTASY NASCAR PREVIEW: Cheez-It 355k Driver Picks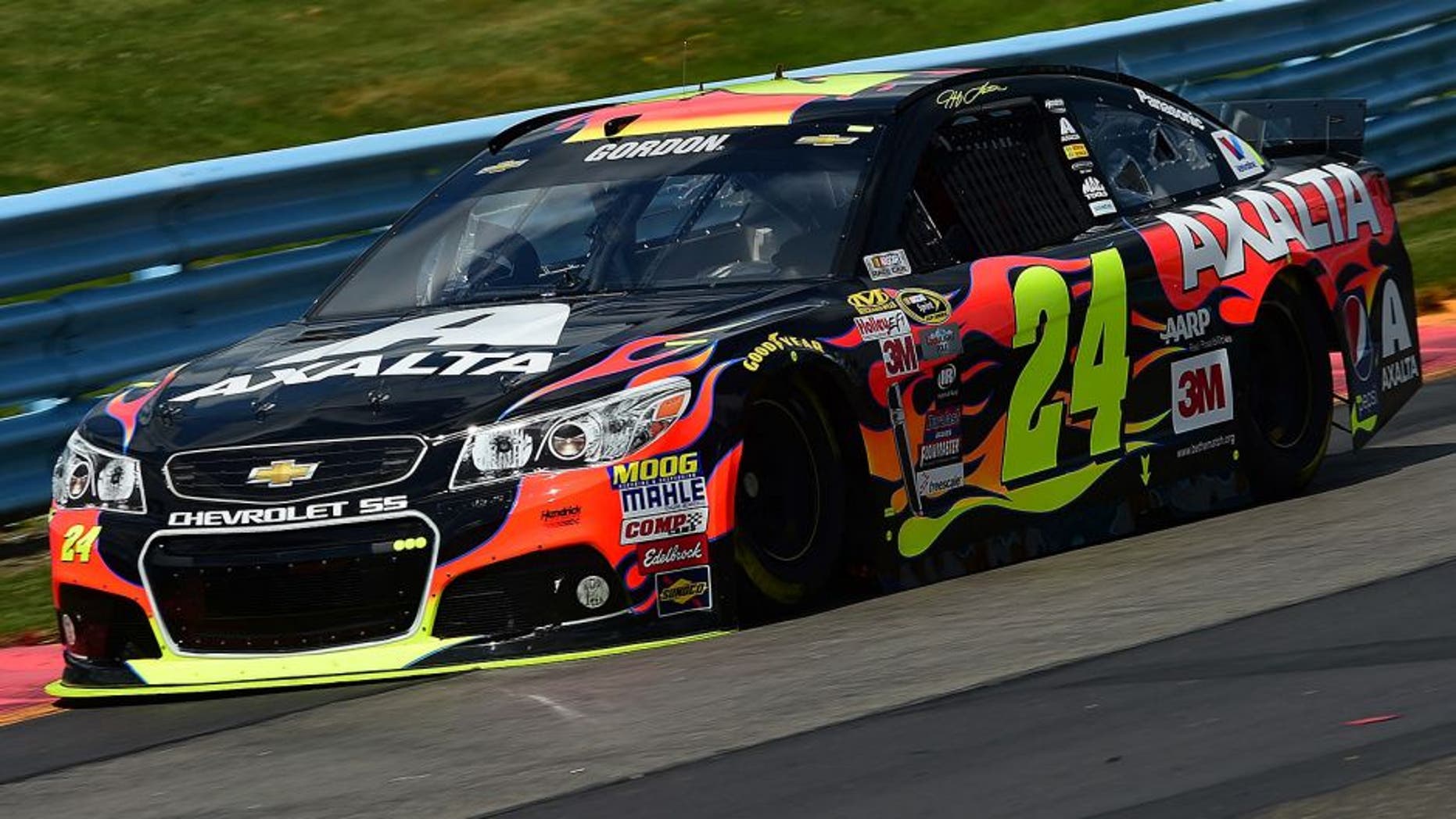 This weekend the Sprint Cup Series visits Watkins Glen International for the final road course race of the season with its annual running of the Cheez-It 355k at the Glen. This circuit is an 11-turn, winding road course with many long straights terminated by hair-pin turns. The race is 90 laps on the almost 2.5-mile course. Top speeds are close to 160 mph which is very unusual for a typical road circuit, and this is due mainly to the long straights which occur at three places on the track. Horse power and aero-handling are key factors for this race, so it's a bit different than the other road courses in NASCAR. As the drivers barrel down the straights and into sharp corners, we see more than a few go off course as they attempt aggressive braking and accelerating maneuvers to make the pass. The teams that can stay on the course and out of the gravel traps or grass will collect a good finish this Sunday at the Glen. Over the last few seasons we've seen NASCAR racing on the road circuits turn from more of a finesse game and into a fender-beating battle similar to what you would see on the series' short tracks. Aggressive driving is the key to victory, but qualifying up front on the starting grid is nearly paramount. The drivers who get good starting spots are often the ones seen hoisting the trophy at the end of the day at the Glen. Making green-flag passes here is difficult, so start up front and finish up front is the key to success at Watkins Glen.
Since the Sprint Cup Series races at Watkins Glen only once a season, we don't have a lot of statistics to go on this weekend. Fortunately, NASCAR keeps good loop data on the various tracks and these numbers will come in handy for this event. As the loop data will show, the drivers who typically do well at Watkins Glen have a history of racing well at this fast, rolling facility. We'll take a look at the last 10 races at Watkins Glen and examine these numbers closely when forming our prognostications for the Cheez-It 355k at the Glen. The following table has the loop stats from the last 10 years or 10 races at Watkins Glen International.
| DRIVER | AVG FINISH | QUALITY PASSES | FASTEST LAPS | LAPS LED | LAPS IN TOP 15 | RATING |
| --- | --- | --- | --- | --- | --- | --- |
| Tony Stewart | 7.5 | 195 | 106 | 145 | 678 | 120.4 |
| Kyle Busch | 11.3 | 183 | 74 | 188 | 638 | 108.4 |
| A.J. Allmendinger | 7.8 | 114 | 16 | 37 | 363 | 100.5 |
| Jimmie Johnson | 12.1 | 208 | 28 | 16 | 715 | 100.1 |
| Brad Keselowski | 12.2 | 66 | 39 | 39 | 290 | 97.5 |
| Carl Edwards | 8.4 | 203 | 15 | 4 | 666 | 95.0 |
| Kurt Busch | 16.9 | 190 | 51 | 61 | 564 | 94.3 |
| Martin Truex Jr. | 12.4 | 188 | 6 | 0 | 536 | 90.7 |
| Kevin Harvick | 14.5 | 161 | 11 | 36 | 543 | 89.0 |
| Jeff Gordon | 21.6 | 164 | 42 | 89 | 479 | 85.7 |
| Denny Hamlin | 20.0 | 181 | 11 | 0 | 468 | 85.7 |
| Jamie McMurray | 19.3 | 130 | 9 | 12 | 465 | 83.7 |
| Clint Bowyer | 15.8 | 106 | 2 | 1 | 427 | 83.3 |
| Kyle Larson | 4.0 | 12 | 1 | 0 | 34 | 80.0 |
| Matt Kenseth | 14.4 | 143 | 1 | 0 | 460 | 79.8 |
| Joey Logano | 16.5 | 59 | 0 | 0 | 235 | 78.4 |
| Greg Biffle | 19.7 | 124 | 5 | 0 | 407 | 76.9 |
| Ryan Newman | 19.2 | 194 | 7 | 9 | 445 | 76.5 |
| Dale Earnhardt Jr. | 24.1 | 163 | 7 | 34 | 448 | 76.2 |
| Kasey Kahne | 19.8 | 171 | 3 | 3 | 358 | 73.9 |
In its Sprint Cup history, the Glen has been won from the front three rows 23 times in the 32 total races run to-date. That factors out to a whopping 72-percent of the winners coming from the first three starting rows. The pole winner has collected nine of those 32 wins. In fact, no winner of this race has started worse than 18th, so qualifying well is extremely important at this winding road course. The winner of this race one year ago, A.J. Allmendinger, started sixth on the grid, so he was yet another winner starting in those first three rows. As far as setting your weekly fantasy lineups this Sunday, you can take a long look at pole-qualifying this Friday and it will be a good indicator of what to expect in this race.
Passing at the Glen can be tricky and there are only a few key points on the track that it can be easily accomplished. The drivers that race Watkins Glen well know exactly where to pounce and make their move. Tony Stewart is the active wins leader at Watkins Glen with five total victories. Smoke's glory at the New York road course is a story of dominance over roughly the last decade. He's won four of the last 10 races at the Glen, and as recently as the 2009 season. With Stewart suffering some performance issues in 2015, we have to look to other drivers to step up and lead the charge. The biggest threats to sweep into victory lane this Sunday are likely Penske Racing star Joey Logano and Joe Gibbs Racing star Kyle Busch. The two were the most dominant drivers at Pocono Raceway this past weekend before they both ran out of fuel in the final laps, so we expect that speed to show up again this weekend at the Glen. Allmendinger won this event one year ago in an impressive performance. Given the current state of his No. 47 team, it will be a tough trick for the veteran driver to defend his victory of one year ago. However, a driver of his clear road racing skill can never be completely counted out. We'll take a look at the loop stats, recent history at the Glen and even look at this season's road course race at Sonoma to help give you the road racing experts to conquer your fantasy racing leagues this weekend.
The Contenders - Drivers in the hunt for the win
Kyle Busch - The No. 18 Joe Gibbs Racing team has been on fire the last six weeks. Were it not for fuel strategy issues this past week at Pocono Busch could easily be a winner of four straight coming to the Glen. The veteran driver won this race in 2008 and 2013, and he's a two-time pole-winner at the New York road circuit. Busch has led close to 200 laps in his 10 Watkins Glen starts, so he knows what it takes to run up front here. This is a race track for aggressive drivers, and that's exactly what Busch is without a doubt. Considering his record at this course, we have to give a hearty recommendation to the Joe Gibbs Racing No. 18 team for this Sunday afternoon at the Glen.
Joey Logano - Logano has a short but somewhat successful resume at the Glen. In his last four trips to the winding circuit, he's claimed three Top-10 finishes. Great Top-5 runs in three of the last four races have set this team in motion to make the Chase for the third-straight season. The No. 22 Ford team has been strong of late with a pair of runner-up finishes in the last four races, and a heart-breaking brush with victory lane this past week at Pocono. The young Penske Racing star should ride another hot rod into Watkins Glen this weekend. In this event one year ago he finished a strong sixth, and that demonstrates his nose for aggressive racing. All indicators point to a strong challenge for the win in Sunday's race at the 11-turn road course.
Kurt Busch - The Stewart Haas Racing star is riding in cruise control coming to Watkins Glen. Not out of complacency, but his two wins and 13 Top 10's have him well positioned in the standings. Busch is a great road course driver as his Sonoma and Watkins Glen resumes will attest. While he only has one pole position and six Top 10's at the New York road course in 14 career starts, his success has come more recently at the facility. When we couple that with his recent Sonoma outings (one victory and four Top 5's in the last five races there) you have to take the No. 41 Chevrolet team very seriously this weekend. Busch finished an impressive third in this event one year ago. He should be up to a similar task this Sunday afternoon.
Kevin Harvick - Coming off the heartbreaking engine failure and DNF at Pocono Raceway, Harvick sets his sights to rebound on the 11-turn road course in New York. It's been a track of mixed results over the years for the Stewart Haas Racing star. Harvick has seven career Top-10 finishes in 14 starts which work out to a steady 50-percent rate. His latest efforts have netted sixth-, 15th-, 13th- and seventh-place finishes. The road courses haven't been the greatest venues for the driver of the No. 4 Chevrolet, but we have to remember that Harvick did win earlier in his career at this facility. As we recall, he is a one-time winner at the Glen (2006) so the ability to dominate here is clearly possible.
Solid Plays - Drivers who are near locks for the Top 10 with an outside shot at winning
Clint Bowyer - The Michael Waltrip Racing veteran is coming to New York looking to keep his good season rolling. Bowyer has eight Top 10's on the season and he's ranked 14th in the standings coming into the Cheez-It 355k. The driver of the No. 15 Toyota has one Top-5 and two Top-10 finishes in his last three starts at the Glen. In the road course race at Sonoma earlier this season, Bowyer forged a brilliant third-place finish, so a Top 10 Watkins Glen performance seems to be a lock considering the current level of performance of this driver and team.
Jimmie Johnson - Johnson and the No. 48 team are looking to shake off some recent bad luck and rebound to the Top 10 at Watkins Glen. He showed some very positive signs at Pocono Raceway this past weekend with a Top-10 finish at the Tricky Triangle. The six-time Sprint Cup champion has never won at Watkins Glen, but that fact shouldn't discourage you from fantasy racing deployment this weekend. Johnson has posted some good performances at the New York road course over the years. He has two pole positions and seven Top 10's in 13 career starts at the facility. Johnson's 54-percent Top-10 rate at Watkins Glen is well above the norm for the series.
Brad Keselowski - The Penske Racing star is looking to return to the dominant driver we saw a few weeks ago at the Loudon short track. Keselowski is coming off a runner-up Pocono finish and looking to keep the momentum rolling this weekend. With five career starts at the Glen, he has some pretty impressive numbers for a short resume. After a 20th-place finish in his debut in 2010, he has claimed runner-up finishes in three of his last four starts at the New York road course. It's clear that the driver of the No. 2 Ford likes racing at this venue much more than the road course in California, and the statistics bear this out. Keselowski should be a Top-10 finisher in the Cheez-It 355k.
Carl Edwards - The Joe Gibbs Racing star is a one-time winner at Sonoma and he's always performed well at the Glen. He has never won at the New York road course, but he's been incredibly consistent. Given Edwards' history, it's very likely that he will pilot the team's Toyota Camry into the Top 5 at Watkins Glen International and may even challenge for the win. He boasts one pole position and five Top 5's in 10 career starts at the New York road circuit, and he's never finished outside the Top 20 in those starts. Edwards finished a brilliant fifth in this race one year ago, so there's at least a decent chance the No. 19 team could continue their road course success this weekend.
Sleepers - Drivers with good history at Pocono who can provide a solid finish
Matt Kenseth - We normally don't think of Kenseth when it comes to road course racing, but his stats at the Glen have been turning positive in recent outings. The style of racing at this facility differs from most road courses and play better to Kenseth's strengths as a driver. The Joe Gibbs Racing star has grabbed a pair of Top-10 finishes in his last three starts at Watkins Glen. Coming off the big win at Pocono this past week and riding a four-race Top-10 streak into this weekend's race, how can we not like the driver of the No. 20 Toyota this week?
Kyle Larson - With only one-career start at the Glen the sample size is small but the result is hard to overlook. In his rookie season last year, Larson qualified 23rd on the starting grid and bucked Watkins Glen convention by piloting the No. 42 Chevrolet to a brilliant fourth-place finish. That performance was not lost on us and neither was his outing at the Sonoma road course earlier this summer. Larson qualified a strong fourth on the starting grid and claimed a Top-15 finish after 110 laps at the challenging Sonoma road circuit. He should be a Top-15 driver once again this Sunday afternoon.
Martin Truex Jr. - In what has been a brilliant season for the driver of the No. 78 Chevrolet, the tracks that bring out his best get our upmost attention. Truex proves to be a worthy fantasy racing play on his better tracks. He is again worthy of weekly fantasy racing lineup consideration with a visit to the Watkins Glen road course this Sunday that has yielded some good finishes over his Sprint Cup career. Five of his nine-career starts at this facility have netted Top-10 finishes. Considering that Truex was challenging for the win this past week at Pocono before running out of gas at the end, we should see another great effort from this driver and team.
Jamie McMurray - The driver of the No. 1 Chevrolet has some undervalued road course skills. McMurray claimed a steady 11th-place finish at Sonoma Raceway in June. That was his fifth Top 15 at that road course in his last seven starts there. His Watkins Glen numbers are pretty solid as well. McMurray has two Top 15's at the New York road course in his last two starts there and he finished a solid 14th-place there in this event one year ago. The Chip Ganassi Racing driver is full of surprises and on these winding road circuits, he can be very surprising. Don't get caught off guard by excluding him from your fantasy lineup at the Glen.
Casey Mears - When we visit Watkins Glen, we have to look to those performers over the years that have clearly shown a talent for navigating this tough road course. Mears fits that bill. In 11 career starts he's posted one Top-5 finish and seven Top-20 finishes. In fact, he's never failed to finish here and has always been running at the end. With only two finishes outside the Top 30, that's a good measure of security for your fantasy racing lineup. All-in-all he should finish somewhere close to his career average of 18.7 this Sunday afternoon. Mears has finished 12th- and 15th- in his last two Glen starts, so the ceiling could be even higher.
A.J. Allmendinger - If you have to go deep into your bench this weekend, or stretch those starts in weekly lineup games, you might consider Allmendinger and the JTG Daugherty Racing team this week. Allmendinger's Watkins Glen stats are pretty stellar, he won this event one year ago and he has four Top 10's in six-career starts at the New York road course. More recently, he won the pole position at the road course in Sonoma earlier this summer before misfortune saddled him with a poor finish. Allmendinger can wheel a stock car around a road course. There's no doubt about that. Let him prove it to you this weekend at Watkins Glen.
Slow Down - Drivers to avoid this week
Tony Stewart - Smoke has dominated at Watkins Glen much of the last decade. The owner/driver of the No. 14 Chevrolet stacked up five victories at the Glen from 2002 to 2009. Normally, Stewart is near the top of our list each time we come to the 11-turn road course. However, things have begun to change for Stewart here in the last couple visits. Finishes of 27th- and 19th-place the last two starts are very uncharacteristic, and it's a bad trend for the slumping driver. Stewart finished a sub-par 12th at the road course in Sonoma in June. With all that experience and excellence, the current state of the No. 14 team trumps all those accomplishments over the years at the Glen.
Jeff Gordon - After his 42nd-place finish at Indianapolis and 16th-place finish at Sonoma Gordon is not performing on the road courses and flat ovals. The four-time Watkins Glen winner comes to the New York road course looking for answers this weekend. Gordon collected his four victories between 1997 and 2001 at the Glen. Since then, the Hendrick Motorsports superstar has only two Top-10 finishes in his last 13 starts at the track. Things have been quite difficult for the No. 24 Chevrolet team the last seven seasons at this facility. Gordon has been struggling with consistency in 2015 so there's no reason to press your luck at Watkins Glen. Trends are not good and show that Gordon is a high-risk driver for this race. There are much better options in the driver pool this weekend.
Denny Hamlin - With this fantasy racing selection comes some serious risks, and to us makes for a non-starter this weekend at the Glen. Hamlin and the No. 11 Toyota team have had their struggles this season, as the last three races coming into this weekend have shown. The Joe Gibbs Racing star was a big hit at the New York road course earlier in his career with Top 10's in his first four starts. However, he's fallen on hard times the last few seasons with DNF's in three of his last five trips to Watkins Glen International. When we look back at Sonoma in June we see a lackluster 18th-place finish that gives us negative vibes about his road course performance in the Cheez-It 355k.
Dale Earnhardt Jr. - On the heels of his fourth-place finish this past Sunday at Pocono Raceway, we have to downgrade the No. 88 team at Watkins Glen. Earnhardt has shown that he can turn fast laps at this facility over the years, but he has never been able to put a complete race together at the Glen for 90 laps. Despite leading nearly 50 career laps at the New York road course, he's only managed three Top 10's in 15 starts there. Earnhardt is having a good season, but the chances of a course correction at the challenging Glen are slim. His last eight trips to the Glen have netted only two Top-20 finishes.
Taylor is a three-time FSWA Racing Writer of the Year.
Get a FREE RotoWire 10-day trial (no credit card required) at RotoWire.com.