Fan at Texas A&M CWS game hit in head by flying bat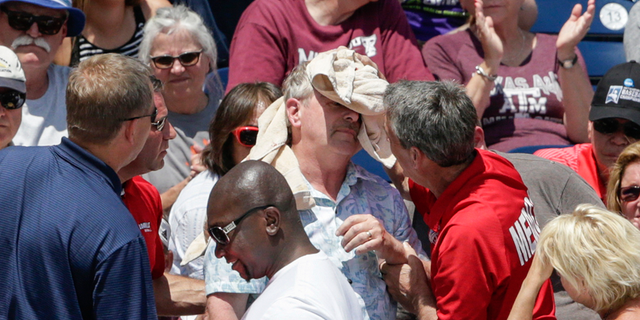 NEWYou can now listen to Fox News articles!
OMAHA, Neb. (AP) -- A 61-year-old man sitting behind the Louisville dugout at the College World Series sustained a minor cut to his head when he was struck by a bat that flew out of a player's hands Sunday.
Burke Perry of Sioux Falls, South Dakota, was in the second row when Louisville's Josh Stowers lost grip of his bat as he swung at a pitch against Texas A&M to end the third inning. Perry said he saw the bat coming but couldn't get out of the way.
Nearby fans applied towels to Perry's head. Medics escorted him to a first-aid station, and he returned to his seat with his son a few minutes later.
Perry had about a 2-inch cut on the top of his head. He said the bat "just skimmed me."
Matthew Emmons | Matthew Emmons-USA TODAY Sports