Facing possible lifetime ban, Cody Stanley is living every player's nightmare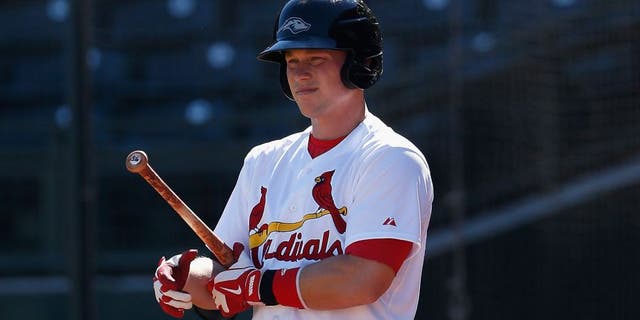 NEWYou can now listen to Fox News articles!
Does it make sense that a player suspended for performance-enhancing drugs would use the same substance again while serving his penalty?
Does it make sense that the player would commit a third violation and invite a lifetime ban just weeks before he was due to appeal?
Those are the questions that free-agent catcher Cody Stanley is asking -- and he said that his inability to find suitable answers makes him fear for his fellow players.
Stanley, who received a 162-game suspension from Major League Baseball on Friday, said that he expects even worse news soon -- €" a permanent ban for a third positive test for the same residue of the steroid Turinabol that triggered his previous two suspensions.
"If I was a player who had never tested positive, who was just going about my business in MLB, I'd be scared right now," Stanley said in an exclusive interview with FOX Sports.
Stanley, 27, made his major-league debut last season, appearing in nine games for the Cardinals. He would be the second player to receive a lifetime ban, joining former Mets pitcher Jennry Mejia.
"I will never apologize for something I didn't do," Stanley said in a formal statement through the players union. "We will not stop searching for why all of this has happened."
An independent arbitrator rejected Stanley's appeal of his second positive test on Thursday, triggering his 162-game suspension. Minor leaguers who tested positive for Turinabol have admitted to using tainted supplements, baseball officials say, but Stanley and the others have offered no such explanations.
Stanley's position is similar to that of Blue Jays first baseman Chris Colabello, Phillies reliever Daniel Stumpf and Mariners minor-league outfielder Boog Powell, who also are serving suspensions for Turinabol. All say they have no idea why they tested positive.
"At the end of the day, you've got to trust the science," one baseball official said. "People do not test positive by accident. There is always some explanation. It doesn't enter the body by osmosis."
Forty-two supplements, including some that are available at GNC, can trigger a positive test for Turinabol, baseball officials said. Clubs again were reminded this week that players should use only supplements certified by NSF International, an independent organization that tests and approves products.
The union, however, is concerned about the run of suspensions for Turinabol, and continues to seek evidence that might shed light on why some players are testing positive, a source said.
The Joint Drug Agreement, enacted by MLB and the union in December 2011, would allow the union to present new facts to an arbitrator and effectively reopen the players' cases, a source said. Stanley said that he met Friday with investigators sent by the union.
Stanley, who received a 50-game suspension in March 2012 after testing positive for Methylhexaneamine and Tamoxifen and violating baseball's minor-league drug program, admits to not doing enough research on the supplements he was taking at that time.
His current predicament, he said, is different.
Stanley said that he used only NSF-certified products, but tested positive five times from last July 18 to May 26 for the same M4 metabolite that reflects a use of Turinabol, which formally is known as dehydrochlormethyltestosterone (DHCMT). He also tested negative once during that period.
"Who would be stupid enough to take the same steroid again?" Stanley asked, referring to his repeated positive tests. "You'd have to be an absolute idiot."
Stanley said that his first two positive tests for Turinabol were on July 18 and 25 of last season. Baseball treated them as one violation, believing they came from the same alleged use. Stanley appealed but received an 80-game suspension for a first offense on Sept. 12.
His next positive test came less than two months later, on Dec. 3. Stanley then tested negative on Feb. 10, and positive again on May 4 and 26, all while still suspended. Baseball also is treating the two tests in May as one, but the second is effectively irrelevant; the first alone would trigger the lifetime ban.
Testing for Turinabol, a steroid used by East German athletes in the 1970s, improved about two years ago, allowing researchers to detect metabolites that stayed in the body several weeks and in rare cases months, according to an ESPN report in May.
Stanley, in his latest appeal, said he argued that his positive test on Dec. 3 was the result of residue from his positive tests in July.
After twice losing before an arbitrator, he holds little hope of winning his third case and avoiding a lifetime ban.
"There is no way I win that one," Stanley said. "Nobody wins appeals. Nobody."
Stanley said he realizes that baseball might consider his public remarks a violation of the confidentiality provisions of the JDA; the agreement states that if a player makes public statements, the commissioner's office shall have the right to respond by disclosing confidential information regarding the player's actual or alleged violations.
I've got nothing to lose. How are they going to penalize me any further? -- Cody Stanley
Stanley, who became a free agent after the Cardinals did not offer a contract in December, was eligible to return from his suspension on June 3. He said that some independent minor-league teams showed interest, but that he did not want to sign with one after again testing positive.
His downfall is stunning, considering that he achieved his professional dream less than 15 months ago, making his major-league debut for the Cardinals on April 26, 2015.
The Cardinals had made him their fourth-round pick out of the University of North Carolina at Wilmington in 2010 and protected him on their 40-man roster in the winter of '14. Stanley said he was excited to make the 40-man; he and his wife, Mercedes, believed the security might enable them to build a home in Charlotte, where they live, and start a family.
Spring training went off without incident; Stanley said he passed a drug test at the start of camp. He began the season with Triple-A Memphis, but the Cardinals promoted him after less than a month; Yadier Molina, the Cardinals' starting catcher, was dealing with a bruised right knee at the time. Stanley got a hit in his first at-bat, then returned to Triple-A three days later, telling club officials, "You'll see me back here."
In June, after returning to the minors, Stanley said that he began suffering from an inflamed forearm, requiring him to miss about a week. Team doctors prescribed him three different anti-inflammatory medications -- Methylprednisolone, Mobic and Indocin.
On July 18, he took a drug test.
In mid-August, he received a call from the union, informing him that he had tested positive for Turinabol. He was the first major leaguer flagged for that drug.
"I have a heart attack," Stanley said. "I think I'm in a different world, maybe dreaming. I have no idea what to think. For a second, you think someone is playing a joke on you.
"I go, 'What is this drug? I've never heard of this drug in my entire life.' And I know a lot about supplements. I pay attention to what I take and I like to take care of my body."
Stanley, after researching Turinabol, surmised that perhaps one of his NSF-certified supplements had been contaminated.
"I had saved a little bit in all of my supplements," Stanley said. "That's just the smart thing to do. They tell you, 'Save a little bit just in case something like this happens. Then you have it and you can send it off (to be checked).'
"Well, guess what? I did. I have all my stuff. I was sending in face cream, deodorant, everything that could possibly be absorbed by my body or that I could take orally . . . I was sending in literally everything. Every single one of those things I sent in came back clean."
Still, Stanley lost his appeal.
He said that the union negotiated for the Cardinals' postseason games -- four, as it turned out -- €" to count toward his 80-game suspension. He worked two jobs during the offseason, doing contracting work at the Elevation Church in Charlotte and giving baseball lessons at a local facility. His goal was to get back on the field as soon as possible.
But on Dec. 21 -- €" Stanley's 27th birthday -- €" the union informed him that he had again tested positive for Turinabol.
"I said, 'You've got to be kidding me, you've got to absolutely be kidding me,'" Stanley said.
Seeking answers, he had his blood checked separately by a family-care physician, endocrinologist and toxicologist; all told him that his hormone levels were normal, offering no indication that he had used steroids.
His negative test was on Feb. 10. His appeal finally was heard on May 12; baseball processed other cases while Stanley served his suspension.
Stanley and his wife flew to New York for the hearing. They thought it went well, that the scientist hired by the union had argued persuasively on his behalf.
On Thursday, they learned such was not the case.
"We wanted to work together with MLB and figure this out so it could work out for everyone," Stanley said, referring to the other players who tested positive for Turinabol.
"Is this a testing flaw? Then great. We all get compensated, back pay, service time, everything. And we get to go on with our lives and play the game that we love.
"I just want to play. I literally was there. I had made it. I was at the highest level and it got literally ripped out from right under me."