Extra Points: The misses keep on coming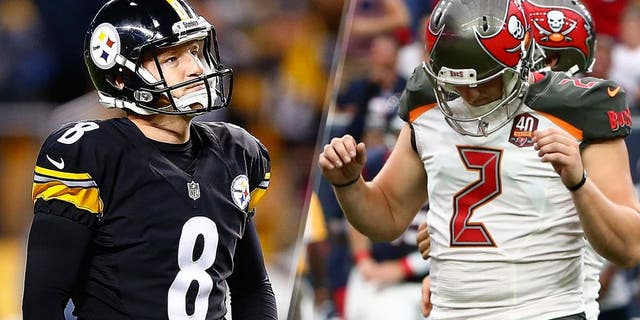 NEWYou can now listen to Fox News articles!
The misses keep coming. Four more extra points were off the mark in what was an overall dreadful week for NFL kickers.
There were 14 missed field goals in Week 4, leading veteran Josh Scobee and rookie Kyle Brindza to lose their jobs with the Steelers and Buccaneers, respectively.
A total of 17 PATs have already been missed at the quarter-pole of the 2015 season, more than doubling last year's full season total of eight. Scobee (one PAT miss) and Brindza (two missed PATs) joined Randy Bullock (two missed PATs) and Kai Forbath on the line of kickers looking for work.
Moving extra points back 13 yards to the 15-yard line has already had its intended effect for the league, adding excitement to a play that was virtually automatic. Last year at this time, only two extra points were missed, and both of those were blocked.
On the flip side, two-point conversion attempts have nearly doubled from 15 through four games in 2014 to 29.
The Steelers lead the league with four tries, while 13 teams have yet to go for two at all. Overall, the success rate has jumped from 40 percent to 51.7 percent at the quarter-pole.
While the league has been successful in adding more more drama, the longer extra point may have also brought some unintended consequences. Former NFL kicker Jay Feely believes the longer kicks have had a trickle-down effect on overall kicking success. He says that most kickers used the shorter extra points like in-game practice swings to build their confidence for longer field goals.
"It just helped in general to have no pressure, to have a play where you can go out there and not worry about the result and focus on your form. That helped you get grooved in because you have to do something terrible to miss it," Feely told FOX Sports on Sunday. "But now, it's not like that at all. There's pressure on that kick, so you can't relax at all and you can't take that in-game practice to get comfortable."
The numbers don't exactly support Feely's theory since field goal accuracy is 83.75 percent, a tick down from last season's rate of 83.99. Furthermore, of the 11 kickers who missed a field goal during Week 4 action, eight had already made a kick in their respective game, according to FOX Sports NFL insider Mike Garafolo. You can read more about his insight into kicking woes here.
Lawrence Tynes, who spent nine seasons with the Chiefs and Giants, agrees with Feely, but also points to a lack of experience at the kicking position. There are currently six kickers rostered (plus Brindza) that entered the season without a regular season field goal to their names.
"They just made the position harder," Tynes said. "It's a lack of experience and a lack of players knowing how to deal with pressure."
Tynes' claim doesn't exactly hold water either. The bottom three kickers in terms of accuracy at the moment (aside from Week 4 newcomers Nick Novak and Caleb Sturgis) are Adam Vinatieri, Scobee, and Mike Nugent -- that's eight misses and a combined 43 years of kicking experience! Jacksonville's Jason Myers (7 of 10) and Miami's Andrew Franks (3 of 4) are the only rookis to land among the bottom 10 kickers in field goal percentage.
Bottom line is that top kickers like Stephen Gostkowski and Justin Tucker are more valuable to their teams right now. We'll check back in after four more games to see if Week 4 was an aberration or the start of a trend.