EXCLUSIVE: Rick Hendrick Buys First 2014 Corvette Convertible for $1 Million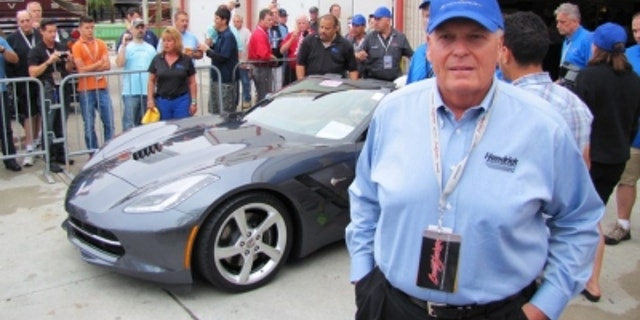 Rick Hendrick has done it again.
The famed NASCAR team owner, who bought the rights to the very first 2014 Chevrolet Corvette Stingray coupe at Barrett-Jackson Scottsdale in January, has doubled down today by winning the Palm Beach bidding for the first 2014 Stingray convertible to be produced.
The price tag: $1 million. Although, every penny of the charity sale goes to benefit the Barbara Ann Karmanos Cancer Institute .
Hendrick, a familiar face as a regular buyer and seller at Barrett-Jackson auctions, paid $1.1 million for the coupe in Scottsdale. So it was widely speculated that he would vie for the convertible. Now, he has a pair of No. 1 2014 Corvette bookends costing a total of $2.1 million. Barrett-Jackson charges no auction fees for charity sales.
"I paid a little more than I wanted for that car," Hendrick said in a classic understatement. "But I owe so much to Corvette for getting me into the car business in the first place."
Hendrick, considered to be the biggest Chevy dealer in the world, said he has a passion for Corvettes, with many examples of the breed in his private collection.
"Corvettes are a passion of mine," he said. "I love those cars so much, and to have the first Corvettes from the new generation means so much to me."
Part of the deal from General Motors for the first Corvette convertible is a ceremony that will take place at the factory when Hendrick will start up the freshly built Stingray for the first time at the end of the assembly line.
As well as buying cars this week, Hendrick is also selling them . He has 10 top-drawer cars from his collection going over the block today and Saturday, as well as a charity car: former President George W. Bush's own 2009 Ford F-150 King Ranch pickup. Hendrick bought the Bush pickup in a charity sale in Scottsdale and has re-donated it for Palm Beach.
Hendrick has a few other first-of purchases from Barrett-Jackson auctions. He bought the first production 2010 Camaro SS for $350,000; the first 2011 Corvette Z06 Carbon Edition for $270,000; the first 2011 Camaro SS convertible for $205,000; and the first 2012 ZL1 Camaro for $250,000.
brightcove.createExperiences();
Bob Golfen, Automotive Editor for SPEED.com, is a veteran auto writer based in Phoenix, Arizona, with a passion for collector cars, car culture and the automotive lifestyle. SPEED.com fans can email Bob Golfen at bgolfen@gmail.com