Exclusive: Carl Edwards breaks 230 mph -- in an SUV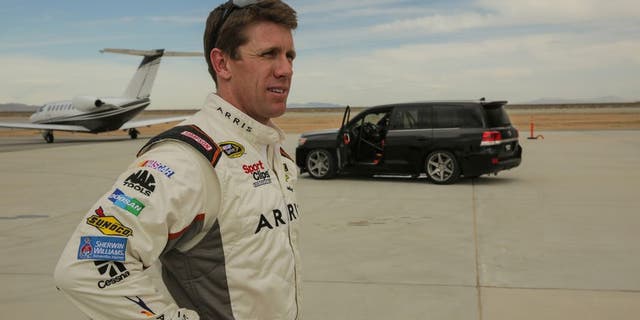 Carl Edwards isnt racing in NASCAR this season, but hes still going plenty fast.
Edwards, who won 28 Monster Energy NASCAR Cup Series races over 13 years first with Roush Fenway Racing and then Joe Gibbs Racing, recently drove a heavily modified Toyota Land Cruiser to a speed of 230.02 miles per hour, making it the Worlds Fastest SUV.
And in an exclusive interview with FOXSports.com, Edwards talked about what driving the 2,000-horsepower beast was like.
I went out there on the top speed run and it made some sort of noise, Edwards told FOXSports.com of his record run. All I could think was that this might be our only shot at getting the record and so I kept my foot in it."
From there, the drama only got bigger.
The front end kind of wandered at about 225 (mph) and I thought, Holy crap, I dont know whats coming next, said Edwards. Once I saw 230 we actually got to 232 or 34 I shut it down. Man, my heart was pounding. Im not exaggerating. It was pretty exciting.
Edwards made his record run at the Mojave Air and Space Port in Mojave, California, which has a straightaway that is 2.5 miles long.
On his first run, Edwards hit 211 mph before running out of usable pavement. He brought the big SUV in and Toyotas engineers turned up the boost, allowing him to hit 230.02 mph on the next run.
The 2,000-horse SUV is nicknamed the Land Speed Cruiser. Based on a stock Land Cruiser, it was heavily modified by a team of engineers at Toyotas Motorsports Technical Center (MTC) before debuting at the 2016 Specialty Equipment Market Association (SEMA) Show.
Craig Stanton, a championship road racer and test driver, helped set the truck up and he and some Toyota engineers were on hand for the run. Edwards said that unlike in NASCAR, this was new territory for all.
In the NASCAR world, everything is a little more predictable, Edwards told FOXSports.com. I got out there and it was a little bit of an adventure. No one knew what was going to happen, so that was something that I hadnt felt for a long time, which was really cool.
As was the camaraderie with the Toyota folks on hand.
The neatest part of it was just that sense of just a bunch of guys getting together and building something to see how fast it would go, Edwards said. That was pretty damned cool.
I then asked Edwards what his next adventure would be.
I got about 1,800 acres of soybeans to plant, but thats about it for right now.