Excellent pitching not enough for Reds in 2-1, 10-inning loss to Orioles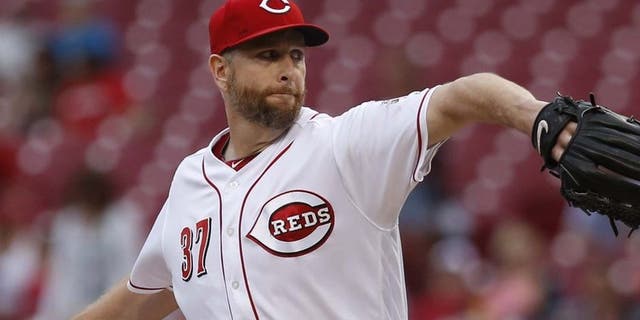 NEWYou can now listen to Fox News articles!
CINCINNATI (AP) -- Shutdown pitching and just enough hitting. The Baltimore Orioles found a way to squeeze out the close ones during an uplifting trip.
J.J. Hardy singled home the tiebreaking run in the 10th inning on Thursday night, and the Baltimore Orioles held on for a 2-1 victory and an interleague series win over the Cincinnati Reds.
The victory ended a 6-3 trip for the Orioles . They took two of three in Cincinnati, leaving them 8-4 in interleague play against the Reds.
"That's kind of the way we expect to play," Hardy said. "I don't think we're too surprised at how things are turning out."
Hardy fouled off a pair of two-strike pitches before driving in Mark Trumbo from second base with his single off Blake Wood (0-2) that cleared the infield -- exactly what the shortstop was trying to do with his final swing.
"Don't strike out," he said, summing up his approach. "Just try to put it in play and make something happen. Fortunately that ball fell in."
Three Orioles pitchers limited the Reds to two hits for the second night in a row. Cincinnati managed only two singles during a 2-0 loss on Wednesday night and was held to one run in the last 23 innings of the series.
Darren O'Day (1-1) fanned two of the three batters he faced in the ninth. Brad Brach retired the side in the 10th for his second straight save filling in while closer Zach Britton recovers from a sore forearm.
Left-hander Wade Miley allowed two hits in eight innings, including Joey Votto's homer in the fourth. Miley matched his career high by fanning 11 for the third time, taking advantage of the Reds' aggressive swings.
"We've faced them in the past," Miley said. "We found things, and we stayed with it."
Jonathan Schoop extended his hitting streak to eight games with a solo homer in the second off Scott Feldman, his third homer during the streak.
"I had in my notes that he's an aggressive hitter and not to throw him any curveballs for strikes," Feldman said. "But that one caught a little too much of the plate."
WASTED CHANCES
Baltimore got a pair of runners thrown out at third. Manny Machado was thrown out trying to go from first to third on Trumbo's single in the fourth. Hardy doubled in the fifth, but was thrown out trying to stretch it into a triple.
TRAINER'S ROOM
Orioles: LF Seth Smith missed a second straight game with a strained right hamstring. Manager Buck Showalter said the club will decide in the next day or so whether to put him on the DL. … RHP Chris Tillman, on the DL with bursitis in his pitching shoulder, is expected to make a rehab start on Saturday.
Reds: LH reliever Tony Cingrani was placed on the DL after the game with a sore oblique. The Reds didn't make a corresponding move. … Catcher Devin Mesoraco will remain on his rehab assignment through the weekend and could rejoin the team next week.
INTERLEAGUE STATS
The Orioles went 14-6 in interleague play last season, their most such wins in club history. The Reds were only 5-15.
LOVES THE PLACE
Miley is 3-0 in four career starts at Great American Ball Park, allowing a total of eight runs. He left for a pinch hitter in the ninth.
MOVE OVER BIG KLU
Votto started his 1,256th game at first base, moving ahead of Ted Kluszewski for most in club history at that position.
FINALLY WHIFFED
Reds second baseman Jose Peraza whiffed in the fourth inning, ending his streak of 53 plate appearances without a strikeout that was the longest active one in the majors. Despite making contact consistently, Peraza is in a 1-for-29 slump.
STILL HITLESS
Orioles catcher Caleb Joseph was 0 for 4, leaving him in an 0-for-23 slide since Sept. 11.
UP NEXT
Orioles: Dylan Bundy (2-1) opens a weekend home series against Boston, facing LHP Drew Pomeranz (1-0).
Reds: Tim Adleman makes his first start of the season as the Reds open a weekend home series against the Cubs, who have won 18 of their last 22 against Cincinnati. Adleman faces LHP Jon Lester (0-0).