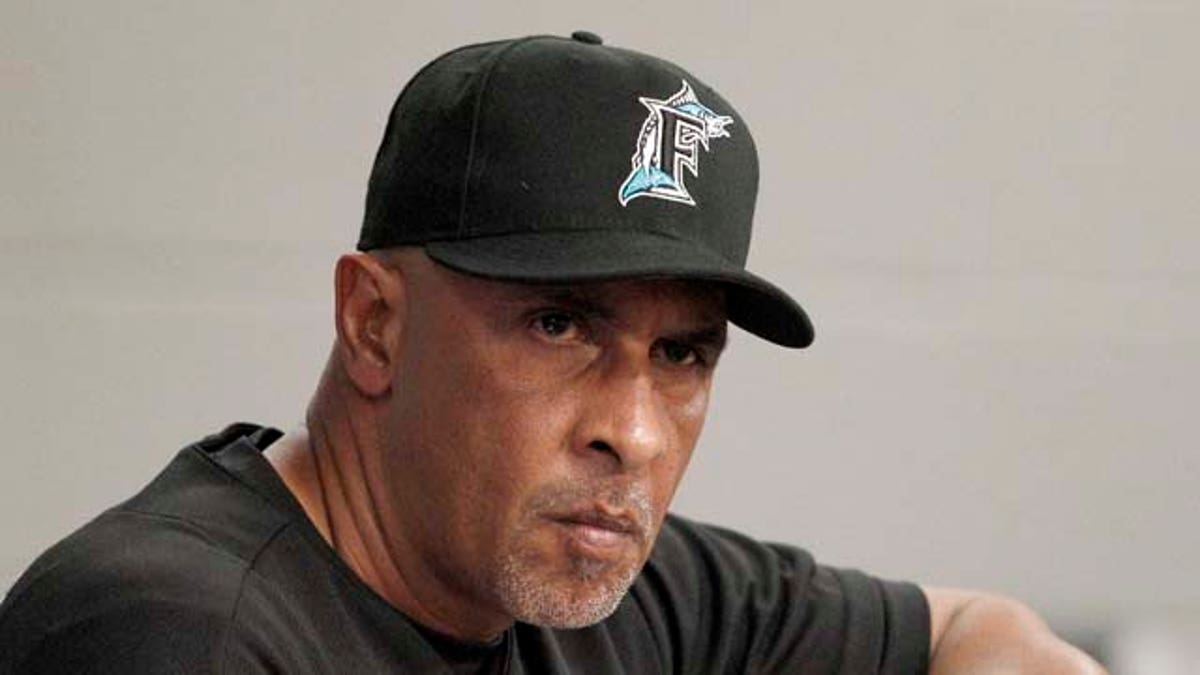 A weekly review of Latinos making news in the world of baseball.
Gone Fishing
Florida manager Edwin Rodíiguez probably couldn't take the losing anymore and called it quits Sunday in his first full season with the Marlins in the midst of a nine-game losing streak.
The last-place Marlins then went on to lose their 10th straight and are now 1-18 in June.
Rodríguez took over the team as its interim manager last season on June 23 after Freddy González was fired. Four days later he became the first Puerto Rican-born manager in MLB history.
Rodríguez guided the Marlins to a 46-46 finish after he started out the season as manager of the team's Triple-A affiliated in New Orleans.
The Marlins are 32-40, 12 1/2 games behind the division leading Philadelphia Phillies.
The struggling Florida team has been without staff ace Josh Johnson since the middle of May and shortstop Hanley Ramirez is only hitting .204 with four homers and 17 RBIs.
Rodríguez spoke to the team before the game but did not speak to the press. In a statement, Rodriguez said: "I can't say enough about the effort that this staff and these players have put into this season. I could tell that they continued to give 100 percent effort each and every day on the field. I wish this organization and players nothing but success in their future."
Former manager Jack McKeon, who took over mid-season in 2003 and led the club to the World Series championship, is expected to become the team's manager on Monday.
First Place, but at Costly Price
The St. Louis Cardinals moved into a first-place tie with Milwaukee in the National League Central, but in the process lost Albert Pujols after the slugger got injured while trying to tag out a runner at first base.
Pujols, who will be a free agent at the end of the season, strained his left wrist and injured his shoulder in the collision. He said will know more about the injury on Monday, an off day for the Cardinals.
"To be honest, I can't give you guys too much until the X-rays and an MRI tomorrow. I know I'm pretty sore. Am I worried? Of course," Pujols told reporters after the game. "Hopefully, everything will come out negative tomorrow. When I come out of a game, believe me, something is really wrong."
Pineiro Notches No. 100, Joins High Boricua Five
Joel Pineiro became the fifth Puerto Rican pitcher to win his 100th game in MLB history, picking up the victory Friday night as the Los Angeles Angels beat the New York Mets.
Pineiro had gone winless in his last six starts. He is 3-3 this season with a 3.92 ERA.
"I knew it was going to come. I didn't put too much pressure on myself," Pineiro said.
John Calendaria (177), Javier Vázquez (155), Juan Pizarro (131) and Jaime Navarro (116) round out the group.
Pineiro is fourth in that group with 1,020 strikeouts. Vázquez leads with 2,424 followed by Calendaria (1,673), Pizarro (1,552). Navarro is behind Pineiro with 1,113 strikeouts.
Welcome to the Show!
Randall Delgado made his big league debut with the Atlanta Braves but was charged with the loss Friday night against the Texas Rangers.
The 21-year-old from Panama pitched into the fifth inning. He allowed seven hits and four runs, three earned. Delgado made a spot start in place of Tommy Hanson, who has shoulder tendinitis.
"It's a different world. At the same time, it's the same game, baseball," said Delgado, who on Saturday was sent back to Double-A Mississippi.
Jose to Boras: No Way!
Baseball super-agent Scott Boras won't be adding star Mets shortstop José Reyes as a client.
Reyes said before Saturday that he will be staying with his agent Chris Leible and that there was "no chance" that Boras would be his representative.
He is expected to hit free agency and command a lot of money after the season unless the Mets lock him up to a long term contract.
Reyes' 102 hits lead all of baseball and he is second in the majors with a .343 average behind Boston's Adrian Gonzalez, who's hitting at a .347 clip.
Adry Torres, who has covered MLB, NFL, NBA and NCAA basketball games and related events, is a regular contributor to Fox News Latino. He can be reached at elpiloto137@gmail.com or follow him on Twitter: @adrytorresnyc.
Follow us on twitter.com/foxnewslatino
Like us at facebook.com/foxnewslatino