Eagles' Shurmur provides insight on Miles Austin's expanded role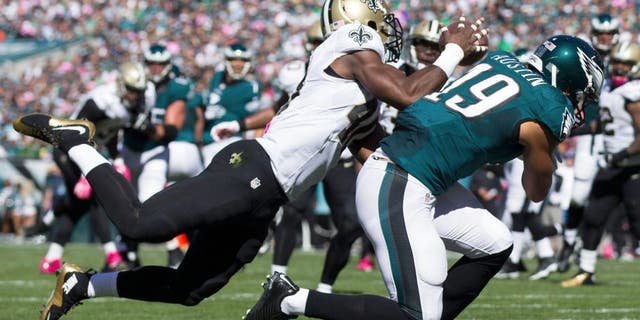 NEWYou can now listen to Fox News articles!
Miles Austin has played the second-most snaps of any Eagles wide receiver in 2015. Who would have expected that before the season started? Bill Streicher USA TODAY Sports
Philadelphia Eagles wide receiver Miles Austin was signed this past offseason as veteran depth, but due to several factors he has evolved into more of a starter. Only wide receiver Jordan Matthews has played more snaps than Austin in 2015.
Despite his extended playing time, Austin has just 212 receiving yards and one touchdown on 12 receptions. These are not the kind of numbers you expect from a wide receiver with the second-most snaps on the team. Eagles offensive coordinator Pat Shurmur shed some light on why Austin's role in the offense has remained so extensive despite his lack of production.
"We've had some injuries," Shurmur said Tuesday of Austin's playing time, per NJ Advance Media. "So, we've had some guys in and out of the lineup. We use the whole roster, as you know, in terms of the receiving corps. Some games, he plays more than others. This week he had more snaps than we're used to seeing on Sunday."
It sounds like we could end up seeing more of rookie wide receiver Nelson Agholor and less of Austin as the season rolls on.
"I think we were getting Nelson back in there. We weren't totally sure how many snaps he could play," Shurmur said. "We were getting a bunch of different groupings and were trying to play with tempo.
"There are times when you're trying to play fast and you try to maybe plan on having another guy in there but instead, you stay in there because we're going to go fast."