Eagles make a statement with dominant win over Cowboys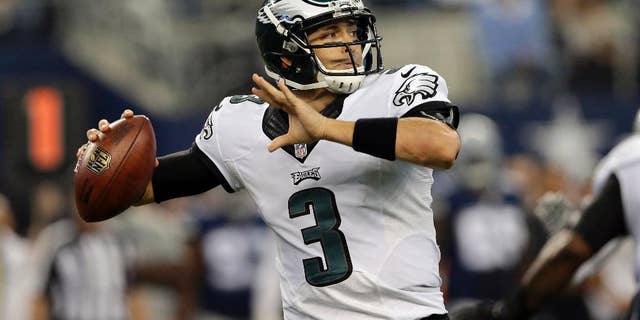 PHILADELPHIA – Mark Sanchez outplayed Tony Romo. LeSean McCoy doubled DeMarco Murray's rushing total. The defense dominated a heralded offensive line.
The Philadelphia Eagles made it clear they're still the team to beat in the NFC East with a convincing 33-10 win at Dallas on Thanksgiving. The Eagles (9-3) took over sole possession of first place going into the final month, but will play the Cowboys (8-4) again Dec. 14 at home.
"Dallas gets a lot of hype. They have good players but we have a good team, too," McCoy said. "Every team has it's day. I'm sure the next time we play them it will be a tougher game, even if it is in Philly."
McCoy ran for 159 yards and a touchdown. He went over 1,000 yards for the fourth time in five years, topping 100 yards for the fourth time in the last seven games after not doing it in the first five. The reigning NFL rushing champion may not catch Murray, but he's focused on team goals.
"The best running back in the league is the one who wins the Super Bowl," McCoy said.
The Eagles will have to finish one game ahead of Green Bay (8-3) and Arizona (9-2) to earn a first-round bye because they lost to the Packers and Cardinals. Next up is tough matchup against the defending Super Bowl champions. The Seattle Seahawks (8-4) visit Philadelphia on Dec. 7 following a win at San Francisco on Thursday night.
Coach Chip Kelly gave players four days off to rest before they begin preparations for the Seahawks. There won't be any quarterback controversy when the team returns to practice.
Making his fourth start for the injured Nick Foles, Sanchez played his best game of the season. He finished 20 of 29 for 217 yards with a touchdown and no interceptions. Foles still isn't ready to play after breaking his collarbone on Nov. 2, but Sanchez may not relinquish the starting job.
"Dream come true," Sanchez said of resurrecting his career after being dumped by the New York Jets. "Best of times, worst of times. A lot of people would love to be in this position."
The key to Philadelphia's success on offense was the line. A group that's been depleted by injuries throughout the season is playing better now that four of the five regular starters are healthy.
With McCoy leading the way, the Eagles had 256 yards rushing. Chris Polk had 48 and even Sanchez chipped in with 28.
"We finally started to see the cohesion," center Jason Kelce said. "We've had some continuity along the offense line for a little while now. It's not that guys went in and did a bad job. Guys that went in did great individual jobs. When you have five guys working together and really on the same page, this was the best we've been throughout the season. And there's still room for improvement."
On defense, the front seven pressured and harassed Romo and a much-maligned secondary shut down Dez Bryant. Romo threw two interceptions and his streak of 38 straight games with a touchdown pass was snapped. Bryant had four catches for 73 yards and was visibly frustrated on the sideline.
"You look at our entire defense, everybody has a chip on their shoulder, everybody has something to prove," safety Malcolm Jenkins said. "We don't have a lot of big-name guys, but we have group that loves playing together and is not afraid to compete against anybody."
___
AP NFL websites: www.pro32.ap.org and www.twitter.com/AP_NFL
___
Follow Rob Maaddi on Twitter: https://twitter.com/AP_RobMaaddi