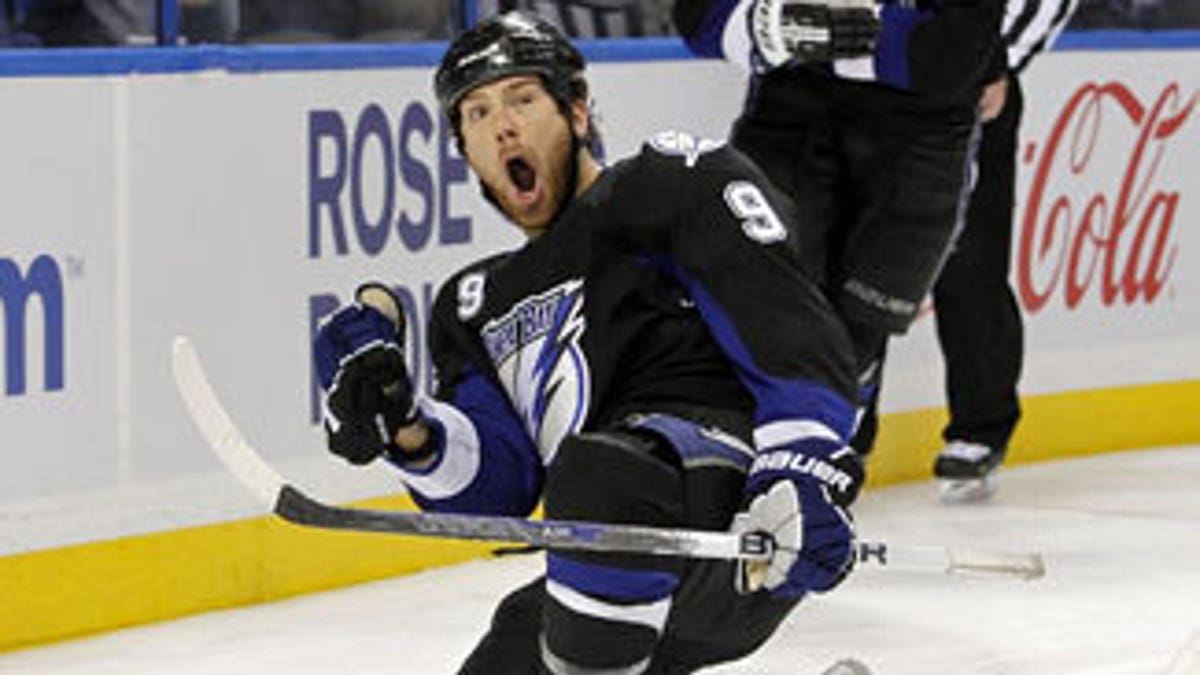 WASHINGTON -- The Tampa Bay Lightning boast a roster that consider star players such as Steven Stamkos, Vincent Lecavalier and Hart Trophy finalist Martin St. Louis. One of those three has to lead the Bolts in postseason scoring, right?
Wrong.
Eight games into the 2011 Stanley Cup Playoffs, it's bruising forward Steve Downie leading the way for Tampa Bay. He had a goal and an assist Friday night in a 4-2 win against the Washington Capitals in Game 1 of this Eastern Conference Semifinal, giving him a team-high nine postseason points.
The former first-round pick (Philadelphia, No. 29 in 2005) has always had offensive ability -- Downie racked up 92 points in his final season of junior hockey in the Ontario Hockey League. He then put up career bests with 22 goals and 24 assists for Tampa Bay in 2009-10.
"It's not a surprise if you ask the guys in our room," Stamkos said. "A lot of the time, the attention gets swirled around about his past … the anger part of it, the suspension part of it and all that crap. But he's a great player. Playing against him in juniors, he was always leading his team in scoring. People don't realize the offensive smarts that he has.
"He's one of the smartest guys on his team when it comes to controlling the puck and making plays and knowing where to be. He's played great for us and stepped up when we needed him. That's why we've been successful thus far in the playoffs. We have everyone stepping up and leaning on each other -- not just leaning toward one or two guys."
The line of Downie, Dominic Moore and Sean Bergenheim has been a force for the Bolts as of late. All three players scored in Friday night's win, and Bergenheim has a three-game goal streak.
"I just think it's our line that's playing really well right now," Bergenheim said. "I think it's the energy we bring and the mindset we have of taking pucks to the net. We kind of think alike. That's what makes us successful."
It certainly is refreshing to see Downie contributing the way he has for the Lightning, given his troubled history. As a member of the Flyers in 2007, he was suspended by the NHL for 20 games for a hit on Dean McAmmond in a preseason game. While playing for the Norfolk Admirals in 2009, Downie received a 20-game ban by the AHL for slashing an official on the shin during a faceoff.
Most recently, Downie was suspended for Game 4 of the Lightning's opening-round series against Pittsburgh for his hit on Pens defenseman Ben Lovejoy in the first period of Game 3.
"With guys like that, you've got to be able to take some of their bad sides," Tampa Bay coach Guy Boucher said. "There's so much of the good side. It's the same as a skill player. Sometimes defensively, it's not exactly what you want. But if the good sides outweigh the bad sides, obviously it's a good thing for the team. I think in Downie's case, that's exactly what we've got. There's very little downside. It's been extremely positive for him personally, it's been very positive for the team and they're real proud of his progress as an individual throughout the course of this year.
"It's been an ongoing process since last August. It's not something's that new. It's something's that's progressed in the right direction. Actually, everybody says he's night-and-day (from) last year. I can't comment on last year, but I can say certainly from the beginning of the year to now, even a lot of refs came to me and said, 'Wow … this guy's really gotten a lot better at controlling his emotions.' I'm real proud of him."
Downie was extremely humble when it was mentioned that he leads the Lightning in scoring eight games into the playoffs. He enters Sunday's Game 2 with a one-point lead on Stamkos and Lecavalier.
"I wouldn't read too much into me leading the team. It might be done tomorrow," Downie said after the Bolts skated at Verizon Center on Saturday afternoon. "We've got too much firepower on this team."
Perhaps, but it's difficult to downplay the importance of Downie's presence in the Lightning's lineup. When he was forced to miss three weeks in March with an ankle injury, Tampa Bay won just two of the nine games during his absence.
"If he was chosen to play with Stamkos and St. Louis last year and he was chosen this year, it certainly means he's got a lot of hockey smarts," Boucher said. "His hockey sense is a lot better than people think. He makes plays, he doesn't panic with the puck when he's being pressured. I think that's his biggest asset -- he can make plays under pressure. That's a quality that not a lot of guys have."
That's why Boucher is not at all surprised that it's Downie who leads Tampa Bay in scoring after eight postseason games.
"I know he's a very smart hockey player," the Bolts' coach said. "Over the years, people have focused on the other side of him a lot. I'm not denying the past -- he's done some things that he's the first one to regret -- but I've also seen him play with Team Canada (at the World Junior Championships in 2006 and 2007) and be the best player there and make his team win. He's got an upside offensively that a lot of people forget about."
Will Downie continue to lead the Lightning in scoring this postseason? Time will tell. At the end of the day, though, he's much more concerned about winning games.
"I haven't really thought about it production-wise for myself," Downie said. "It's about doing the little things -- sticking to our structure, playing a team game. That's what my focus is on and that's what I'm trying to do. I haven't really focused on the points. I try not to."
Follow Brian Compton on Twitter: @BComptonNHL