Dolphins get into scuffle in interim head coach Dan Campbell's first practice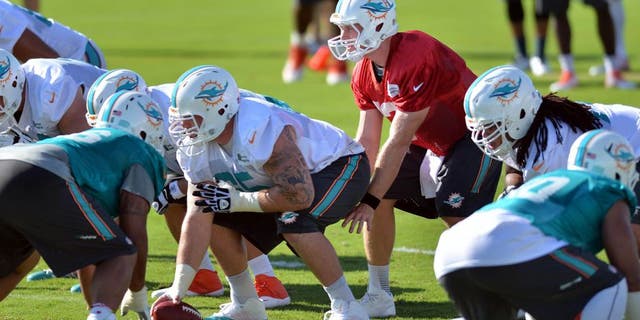 NEWYou can now listen to Fox News articles!
One of the biggest changes from Joe Philbin to Dan Campbell for the Miami Dolphins is the increase in competitiveness. Philbin was known for being somewhat easy going and not very intense in practice, but Campbell has already changed that narrative.
In his first practice as the interim head coach, Campbell implemented the Oklahoma drill -- putting a blocker and defender in a one-on-one situation as the defender tries to stop the ball carrier. The purpose? To make the players tougher.
Well, it seems to have worked as there was already a skirmish between teammates. According to the Palm Beach Post, Jarvis Landry and Cedric Thompson got into a brief shoving match during practice, and while it was nothing serious, it proves there's already been a change in mindset.
"It's not natural for those guys to just want to go out in this heat and beat the crap out of each other, but you need that," Campbell said via Andrew Abramson of the Palm Beach Post.
Campbell's presence has already instilled change in his players, and it's exactly what the Dolphins needed. It remains to be seen if it will help Miami win football games, but it's a start nonetheless.
MORE NEWS: Want stories delivered to you? Sign up for our NFL newsletters.