Dolphins DE Olivier Vernon on disappointing start: 'I gotta do better'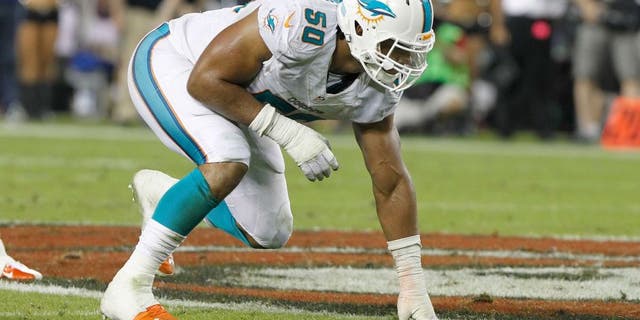 Entering this season, the Miami Dolphins were expected to have one of the league's most potent pass rushes. Needless to say, that's been far from the case.
Through four games, the Dolphins have recorded just one sack -- five fewer than any other team. The trio of Cameron Wake, Ndamukong Suh, and Olivier Vernon have greatly disappointed and combined for just 15 tackles, with 10 of those by Suh.
The Dolphins are hoping a change at head coach and defensive coordinator will provide a boost, but Vernon knows it's up to him, too.
"I gotta do better," Vernon said, via James Walker of ESPN.
Vernon has just four tackles and zero sacks after recording 46 and 6.5, respectively, a year ago. In 2013, Vernon's breakout year, he pulled down the quarterback 11.5 times. Both of those campaigns were under Joe Philbin and defensive coordinator Kevin Coyle, so his struggles this season can't be attributed to just poor scheming.
Vernon and the Dolphins will look to turn their season around this week against the Tennessee Titans on the road. At the very least, the team's struggles aren't for a lack of effort.
"We got a lot of guys that take this serious," Vernon said. "It just hasn't shown up on Sunday."
MORE NEWS: Want stories delivered to you? Sign up for our NFL newsletters.