Does this series have to end?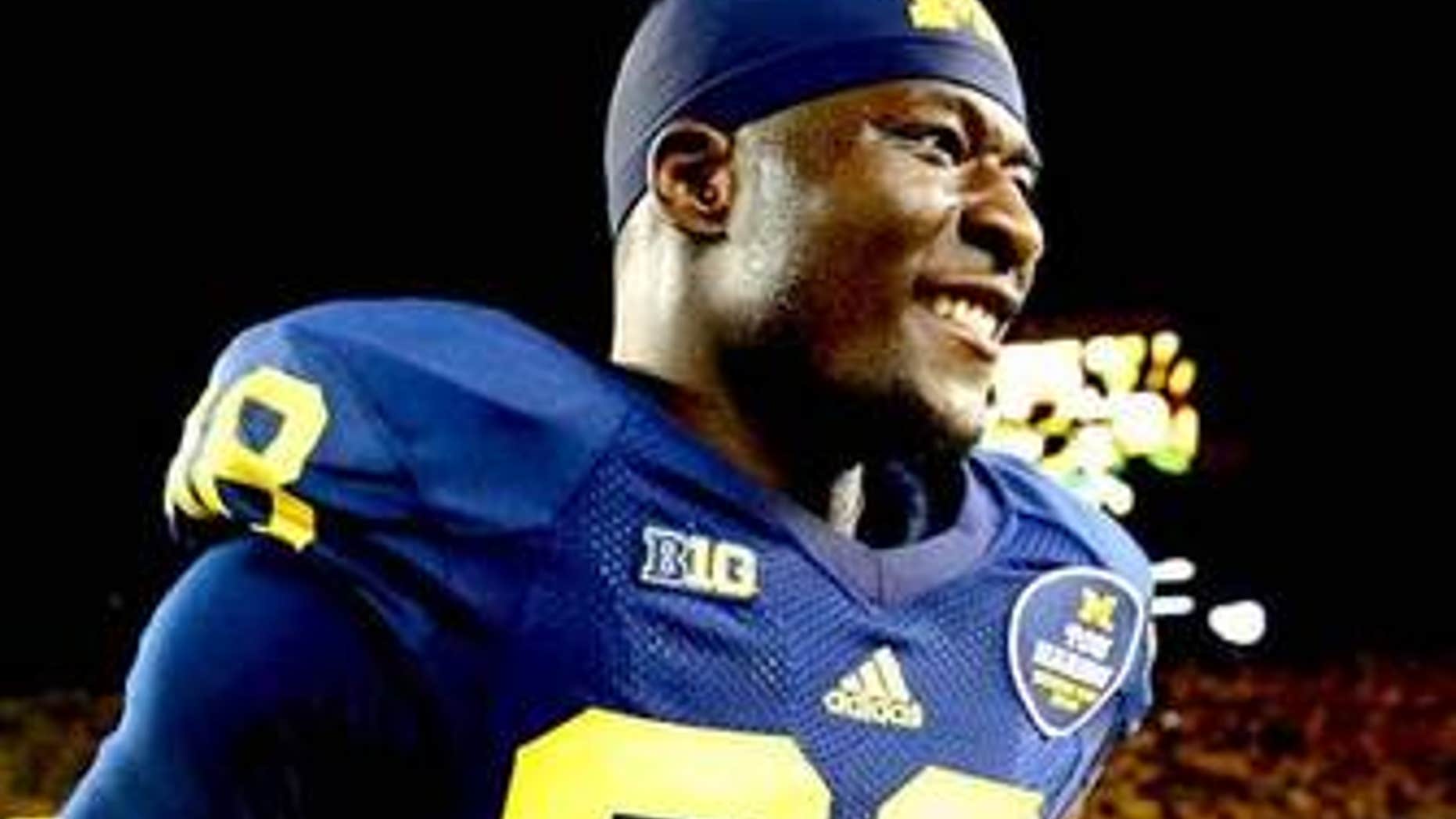 ANN ARBOR, Mich. – Does this really have to end?
In an era when coaches' contracts have the permanence of takeout food, can't Notre Dame tear up its agreement with the ACC? Do college football fans want to watch the Fighting Irish play Duke or N.C. State, when it means we can't see what we just savored on Saturday night?
We may forget the exact score -- Michigan 41, Notre Dame 30 -- but those who witnessed the 41st collision of the best helmets in football will long remember how it sounded and felt. An NCAA record crowd of 115,109 came to Michigan Stadium for one last glimpse -- on these storied grounds -- at a rivalry that ought to last forever but sadly won't. Even those attired in Kelly green couldn't have been too disappointed, after another thriller that featured 870 yards of total offense and remained in doubt until Michigan cornerback Blake Countess intercepted Tommy Rees in the end zone with 1:29 left.
If anything, the universities ought to appeal for permission to play more often. I'd suggest every other week. Instead, the series will go on hiatus -- indefinitely -- after the Fighting Irish and Wolverines meet next Sept. 6 in South Bend. Then the top two programs by winning percentage in major college football will fold their arms and engage in one of the more pointless 170-mile stare-downs in sports history.
Fortunately, at least for a few hours, a swarm of 20-year-olds in shoulder pads made us forget about the suits taking away our fun. Saturday night, one more time, the Michigan-Notre Dame game meant what it did when Bo Schembechler and Lou Holtz stalked the sidelines in Ann Arbor and South Bend: The winner earned immediate national recognition and a nod from the voters (and computers) who assist in the adjudication of championships in this sport.
Last year, it was Notre Dame. Without the Wolverines' six turnovers -- including two Manti Te'o interceptions -- the Irish wouldn't have had a storybook 2012 season. Now it's Michigan's turn.
That's not to say the Wolverines are ready to beat Alabama. They aren't. They entered the night at No. 17 in the polls. Ohio State is generally regarded as the Big Ten's best team, and the Big Ten isn't the SEC. We know all of that.
But Saturday, in their annual benchmark game, the Wolverines looked like a team that could end its year in a BCS bowl. They never trailed. They rolled up 460 yards of offense against a defense (minus Te'o) that formed the backbone of Notre Dame's run to the title game last year. Devin Gardner threw for 294 yards, ran for 96 more, and accounted for five touchdowns. Jeremy Gallon, the tallest 5-foot-8 receiver in college football, caught eight passes for 184 yards and three scores -- looking at times like the dynamic Desmond Howard, whose No. 21 jersey he wears.
In fifth-year senior Fitzgerald Toussaint, the Wolverines have an instinctive runner who found creases against Notre Dame's formidable front seven. Gardner was sacked once despite rushing or throwing the ball 46 times. And Michigan had only one turnover -- which, to be fair, is a little like saying the Superdome had only one power outage during the last Super Bowl: Gardner, under pressure from three defenders, threw an interception from his own end zone to his own end zone.
Even seasoned press box observers sat in stunned disbelief at the sequence of events that led to Irish defensive end Stephon Tuitt cradling the ball and Notre Dame cutting Michigan's lead to 34-27 with a relative eternity (12:06) to play. A fourth-quarter comeback seemed even more likely after a Michigan three-and-out and Notre Dame field goal. But Gardner rallied his teammates -- and his self-confidence -- during a 75-yard drive that culminated in the clinching touchdown pass to the dependable Drew Dileo.
How good is Michigan?
Good enough, apparently, to beat a collection of BCS National Championship Game contestants by 11 points. Good enough, probably, to ascend into the top 10 -- if not immediately, then soon -- thanks to a schedule that does not feature another ranked opponent until Nov. 9 against Nebraska. Good enough, possibly, to beat the archenemy Buckeyes -- Nov. 30 at Michigan Stadium or perhaps one week later in the Big Ten Championship Game on FOX.
We know that because Michigan and Notre Dame played Saturday night. When that stops happening, we'll lose a lot. The only benefit is that millions of people -- in the Midwest and across the country -- won't yell themselves hoarse so early in the season.