Did ALCS change with one changeup?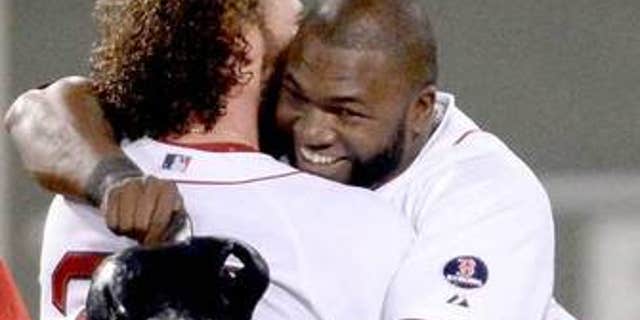 BOSTON – You can't explain it, other than to say, "only in baseball . . ."
Only in baseball can a team like the Boston Red Sox open an American League Championship Series by going 1 for 45 with 27 strikeouts . . . and still manage to earn a split of the first two games.
Only in baseball can a pitcher like Tigers right-hander Max Scherzer allow one run and strike out 13 in seven innings, then watch four relievers blow a 5-1 lead in the span of six batters in the eighth.
Only in baseball can a third-base coach like the Red Sox's Brian Butterfield unwittingly add to the drama, astutely holding a runner at third with two outs to load the bases for one of the game's great clutch hitters.
Only in baseball . . . David Ortiz.
The Tigers' Torii Hunter said he was "pissed off" after his team's shocking 6-5 defeat Sunday night, and not because he failed to catch Ortiz's bullet grand slam while flipping over the wall and getting the wind knocked out of him in right-center.
No, Hunter was upset because the Tigers were four outs away from leading two games to none, with the incomparable Justin Verlander starting Game 3 at Comerica Park.
And now?
Well, let's not predict anything, even though Verlander vs. John Lackey looks like a mismatch. Let's just savor what we're seeing and try to grasp what is happening, difficult as it might be.
Remember, the Red Sox thought they would win Game 1 when they chased Anibal Sanchez after six innings, only to be flummoxed by the Tigers' bullpen. Sunday night was more like it. Sunday night was the late-inning struggle that Tigers manager Jim Leyland has experienced, on and off, all season.
Right-hander Jose Veras opened the parade of misfortune in the eighth by allowing a one-out double to Will Middlebrooks. Lefty Drew Smyly then walked his only hitter, Jacoby Ellsbury. And righty Al Alburquerque, after striking out Shane Victorino for the second out, allowed a single to Dustin Pedroia, with Butterfield holding Middlebrooks at third.
Veras, Smyly, Alburquerque -- all had excelled in the Tigers' 1-0 victory in Game 1. But on Sunday night, the three of them combined to face only five hitters, forcing Leyland to turn to closer Joaquin Benoit for a four-out save.
What other choice did Leyland have?
He already had used Smyly, who had retired Ortiz the previous night. His other two lefties were rookie Jose Alvarez, who has only 14 major-league appearances, and veteran Phil Coke, who had not pitched since Sept. 18 because of elbow problems.
Benoit's changeup makes him effective against left-handed hitters, whom he had held to a .524 OPS in 139 at-bats during the regular season. But his first-pitch change to Ortiz was right down the middle, and Big Papi -- even now, with his 38th birthday barely a month away -- turned on it as few sluggers can.
Tie score. Ecstasy at Fenway. And a walk-off in the ninth that actually seemed anti-climactic. Jonny Gomes led off with a single and Jarrod Saltalamacchia followed with a game-winning single, with help from an error by shortstop Jose Iglesias, a wild pitch by right-hander Rick Porcello and a failure to catch a foul pop by first baseman Prince Fielder in between.
In any case, the Tigers have a problem, and it's not a new problem.
Yes, momentum in baseball rests with the next day's starting pitcher, and Verlander is fully capable of serving as his own closer in Game 3. But the Tigers' lack of a left-handed counter to Ellsbury and Ortiz, other than Smyly, figures to be an issue again in this series. And most of their other relievers are too volatile to be trusted.
On the flip side, the Tigers are getting hot offensively -- Victor Martinez hit two doubles Sunday night, Alex Avila had a homer and three RBI, Miguel Cabrera mashed one homer and nearly another. Then again, the Red Sox led the majors in scoring during the regular season. They're bound to hit better, too -- maybe.
Sox manager John Farrell, sitting alone in his office afterward, looked utterly drained. Leyland, by the end of this series, might pace 20 miles in the dugout and smoke 600 cigarettes.
The first two games were classics, and we're just getting started. Only in baseball do emotions turn this dramatically. Only in baseball can a team look so dominant one moment and so dumbfounded the next. Only in baseball can there be a Joaquin Benoit . . . and a David Ortiz.