Day 2 of the 2017 NFL Draft: Start time, TV, streaming, pick order and more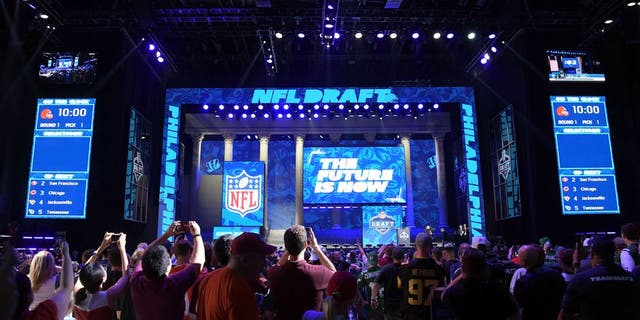 Round 1 of the NFL Draft is in the books after a wild first night of action. Fortunately, the drama isnt anywhere close to being finished. The draft continues Friday night with Rounds 2 and 3 taking place in Philadelphia.
Day 2 of the draft kicks off at 7 p.m. ET on ESPN and NFL Network before ESPN's coverage shifts to ESPN2 at 8 p.m. ET. You can also stream it on WatchESPN and NFL.com/Watch.
AP/Copyright The Associated Press. All rights reserved.
Heres the order for every pick on the second night of the draft. Teams will have seven minutes to make their second-round picks and five minutes to make third-round selections.
1 (33).Packers (fromBrowns)
2 (34).Seahawks (from49ers)
3 (35). Jaguars
4 (36). Bears
5 (37). Rams
6 (38). Chargers
7 (39). Jets
8 (40). Panthers
9 (41). Bengals
10 (42). Saints
11 (43). Eagles
12 (44). Bills
13 (45). Cardinals
14 (46). Colts
15 (47). Ravens
16 (48). Vikings
17 (49). Redskins
18 (50). Buccaneers
19 (51). Broncos
20 (52). Browns (from Titans)
21 (53). Lions
22 (54). Dolphins
23 (55). Giants
24 (56). Raiders
25 (57). Texans
26 (58). Seahawks
27 (59). Chiefs
28 (60). Cowboys
29 (61). Packers
30 (62). Steelers
31 (63). Falcons
32 (64). Panthers (fromPatriots)
1 (65). Browns
2 (66). 49ers
3 (67).49ers (from Bears
4 (68). Jaguars
5 (69). Rams
6 (70). Jets
7 (71). Chargers
8 (72). Patriots (from Panthers)
9 (73). Bengals
10 (74). Ravens (from Eagles)
11 (75). Bills
12 (76). Saints
13 (77). Cardinals
14 (78). Ravens
15 (79). Vikings
16 (80). Colts
17 (81). Redskins
18 (82). Broncos
19 (83). Titans
20 (84). Buccaneers
21 (85). Lions
22 (86). Vikings (from Dolphins)
23 (87). Giants
24 (88). Raiders
25 (89). Texans
26 (90). Seahawks
27 (91). Chiefs
28 (92). Cowboys
29 (93). Packers
30 (94). Steelers
31 (95).Seahaws (from Falcons)
32 (96). Patriots
33 (97). Dolphins (compensatory)
34 (98). Panthers (compensatory)
35 (99). Eagles (fromRavens) (compensatory)
36 (100). Titans (from Rams) (compensatory)
37 (101). Broncos (compensatory)
38 (102). Seahawks (compensatory)
39 (103). Saints (from Patriots through Browns)(compensatory)
40 (104). Chiefs (compensatory)
41 (105). Steelers (compensatory)
42 (106). Seahawks (compensatory)
43 (107). Jets (compensatory)