Davis scores 31, Pelicans get rare win at Mavericks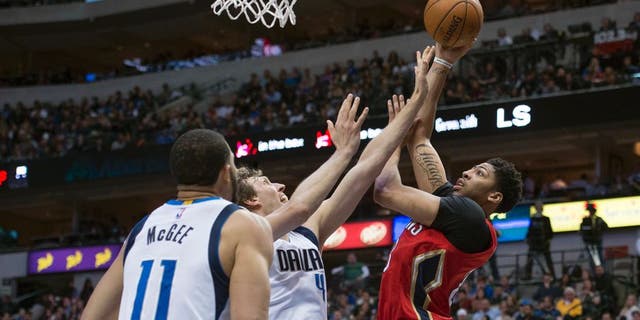 NEWYou can now listen to Fox News articles!
DALLAS (AP) -- Anthony Davis had 31 points and 14 rebounds, and the New Orleans Pelicans ended a six-game losing streak in Dallas with a 105-98 victory against the Mavericks on Saturday night.
Ryan Anderson hit a tiebreaking 3-pointer in the fourth quarter, and the Pelicans went on to their fourth road win this season. They won at Dallas for just the third time in 25 games in franchise history.
Dirk Nowitzki led the Mavericks with 24 points but was 8 of 21 from the field on the second night of a back-to-back -- both losses since Dallas handed Golden State its second defeat of the season, with Stephen Curry sidelined by a leg injury.
New Orleans guard Norris Cole also had a double-double with 16 points and a career-high 12 rebounds. It was Cole's first double-double of the season, and Davis' 21st as the Pelicans improved to 4-15 on the road.
Anderson ended a series of three straight ties with a 3-pointer to put New Orleans ahead for good at 90-87 with 4:27 remaining.
The Mavericks got to 97-96 on a 3 by Wesley Matthews, who had 18 points. But Anderson, who had 16 points, hit four straight free throws while J.J. Barea missed consecutive shots for Dallas.
Dallas was still within three in the final seconds, but Jrue Holiday got to the rim for a layup and the last of his 20 points for a 103-98 lead.
The Mavericks played the last quarter without guard Deron Williams, who went out with left hamstring tightness. He was playing for the second straight game after missing four with a left hamstring strain. He also missed time in the preseason with hamstring issues.
Barea started for the sixth straight game since Williams' original injury, with Williams coming off the bench. But Barea wasn't as hot as he had been in three of the first four starts. He had 10 points on 3-of-10 shooting.
TIP-INS
Pelicans: New Orleans gets a rare three-day break before playing the Mavericks again at home. The Pelicans have 14 games in January, half against teams currently with losing records. "It lightens up, but it doesn't mean anything unless we come away with wins," coach Alvin Gentry said. "It can't be good, hard-nosed, tough basketball where we come away with close losses."
Mavericks: Chandler Parsons hit his 500th career 3-pointer late in the second quarter. ... Coach Rick Carlisle got a technical after stepping in front of official Tony Brown in the middle of a New Orleans fast break to complain about a non-call on Dallas' offensive end. Gentry then complained to Brown for the fast break getting stopped, and he got a technical. The matching penalties negated any free throws.
UP NEXT
Pelicans: Host Dallas on Wednesday.
Mavericks: Host Sacramento on Tuesday.