David Ortiz defends his legacy: 'I never knowingly took steroids, deserve to be in Hall'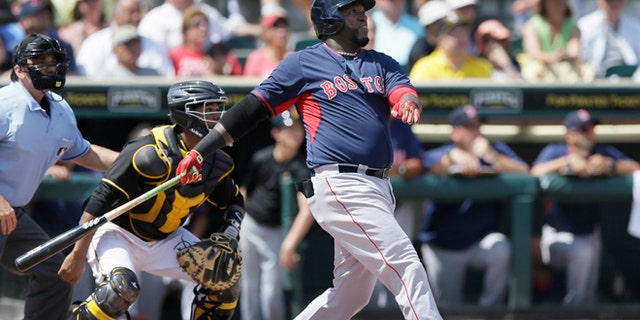 "In some people's minds, I will always be considered a cheater," Boston Red Sox slugger David Ortiz wrote about the persistent rumors of his having taken performance-enhancing drugs.
"Say whatever you want about me — love me, hate me. But I'm no bullshitter. I never knowingly took any steroids."
The remarks by the 39-year-old designated hitter come from a Thursday column for the Players' Tribune, a website founded by Derek Jeter that gives professional athletes a platform to express themselves.
Ortiz contends nobody in baseball has been tested more for performance-enhancing drugs than he has — more than 80 times since 2004. "I have never failed a single one of those tests and I never will."
Entering his 19th season, the Dominican great has piled up the sort of numbers that would translate in other eras to induction to the Hall of Fame.
In his column, Ortiz answered the question of whether he warranted induction: "Hell, yes, I deserve to be in the Hall of Fame."
Ortiz, who has hit 89 of his career 466 home runs after turning 28, has been dogged by allegations of steroids use ever since becoming a perennial All-Star in the mid-2000s.
In 2009, he was on a list of 104 players who allegedly tested positive during Major League Baseball's 2003 survey of steroid use — before there were any penalties from a failed test — the results of which were supposed to be anonymous.
Ortiz later explained he wound up on the list because he used nutritional supplements and was careless about their contents.
"They used our tests to figure out what should be considered a performance-enhancer," Ortiz said about those tests. "Okay. Fine. Great. Clean it up. I love it. S**t, if you catch someone taking PEDs now that we all know the rules and have been educated about what's in these supplements, forget 25, 50 games. Suspend them for an entire year. I don't care, because I'm not doing it."
In May 2013, with Ortiz tearing up the league in the opening weeks of the season, the Boston Globe reporter Dan Shaughnessy suggested in print that the hot start was a little suspicious and that the Dominican "fit all the models" of PED use.
"I wanted to kill this guy," Ortiz wrote without actually using Shaughnessy's name.
And last summer, an MLB Network commentator suggested that Ortiz had received a "free pass" from fans and the media for PED use, which prompted an on-air tirade from the slugger on a Boston-area radio station.
Shortly after that incident, Ortiz spoke to Fox News Latino about the documentary, "David Ortiz in the Moment."
Asked if the succeed-at-all-costs environment of youth baseball in places like the Dominican Republican pushes young athletes toward PED use, he answered, "Not really. I think that's a matter of your own choice."
The Associated Press contributed to this report.
Like us on Facebook